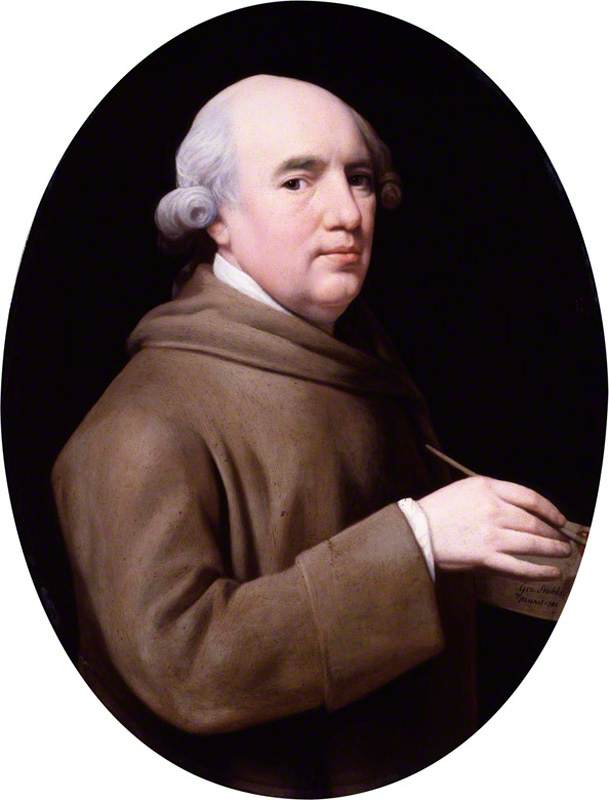 Photo credit: National Portrait Gallery, London
(b Liverpool, 25 Aug. 1724; d London, 10 July 1806). English animal painter and engraver, celebrated as the greatest of all horse painters. He was the son of a leatherworker, and he followed his father's trade until he was about 16. As an artist he was virtually self-taught, although he worked briefly with the painter Hamlet Winstanley (1694–1756). His life up to his mid-thirties (which is poorly documented) was spent mainly in the north of England. Early in his career he seems to have earned his living chiefly as a portraitist, and he also made the illustrations (based on his own dissections) for Dr John Burton's treatise on midwifery (1751); Stubbs had studied anatomy at the County Hospital in York, where Burton was a doctor. In 1754 he visited Rome, then spent eighteen months working in isolation in Lincolnshire, dissecting and drawing horses in preparation for a book on equine anatomy.
Read more
He moved to London in about 1758 and, unable to find an engraver to do the work, he made the plates himself, and in 1766 published his famous book The Anatomy of the Horse. It was a great success, prized for its beauty as well as its scientific accuracy and Stubbs was soon in demand as a painter, not only for his 'portraits' of horses with their owners or grooms, but also for his conversation pieces in which the sitters were grouped in and around a carriage. His command of anatomy was matched by his ability to depict the beauty and grace of his equine subjects without sentimentalizing them and his range of feeling was wide, extending from the lyrical calm of Mares and Foals in a River Landscape (c.1763–8, Tate, London) to the full-blooded Romanticism of his series of pictures on the theme of a horse attacked by a lion (the largest—c.1762—is in the Yale Center for British Art, New Haven). He is said to have derived his fascination for the subject from having witnessed a lion attacking a horse in Morocco on his way back from Italy, but he may also have been familiar with a much copied antique statue on the theme.Stubbs painted many other animals apart from horses—among them a moose, a rhinoceros, a zebra, and numerous dogs. At his death he was working on A Comparative Anatomical Exposition of the Structure of the Human Body with that of a Tiger and a Common Fowl, the drawings for which are in the Yale Center for British Art. His scientific curiosity extended to the materials he used and he experimented with painting in enamel on earthenware panels manufactured for him by the great potter Josiah Wedgwood. Such projects took up much time but did not make him money and in his final years he was in financial difficulties. He kept his great powers until the end, however, and one of his finest works, painted when he was 75, is the enormous Hambletonian, Rubbing Down (1799, Mount Stewart House, County Down, NT), showing the champion horse looking strained and exhausted after winning a race in which it was 'much cut with the whip' and 'shockingly goaded' with the spur. It is a magnificent, heroic, almost tragic image. Stubbs was for long classified as merely a superior sporting painter, but his reputation now stands very high: indeed he is placed alongside Gainsborough and Reynolds in the front rank of English painters of his age.
Text source: The Oxford Dictionary of Art and Artists (Oxford University Press)