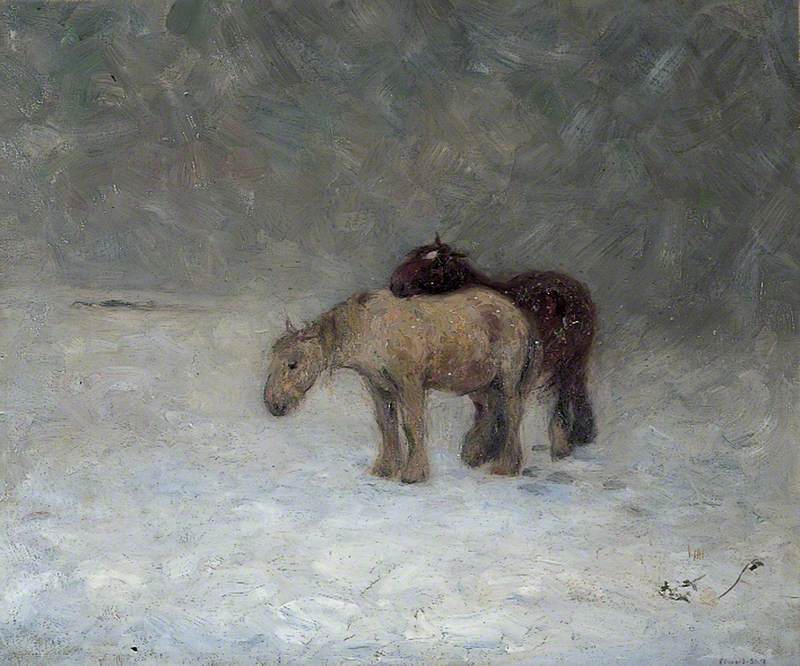 Photo credit: Bridgeman Images
Painter born at Rochdale Lancashire who is often confused with the similarly named William Stott from Oldham (no relation).
Read more
Stott was born on 25th April 1855 to Samuel and Jane Stott of Quarry Hill, Wardleworth, Rochdale, in the county of Lancashire. He is often referred to as 'William Edward Stott' but there is no indication of this full forename on his birth certificate (just Edward).

He attended the Manchester School of Art and then furthered his studies in Paris in 1880, enrolling first at the studio of Carolus-Duran and then from 1882 to 1884, at the Ecole des Beaux-Arts under Cabanel. When he returned back to England he moved to London and began exhibiting at the Royal Academy from 1883. He was a founding member of the New English Art Club in 1886 and moved to Amberley in Sussex in 1889 and was elected an Associate of the Royal Academy of Arts in 1906.

A frequent exhibitor he showed at the Royal Birmingham Society of Artists, Grosvenor Gallery, Glasgow Institute of the Fine Arts, Goupil Gallery, Walker Art Gallery, Manchester Academy of Fine Arts, New English Art Club, New Gallery, Royal Hibernian Academy, Royal Institute of Oil Painters and at the Royal Society of British Artists. Examples of his work are held in the collections of Aberdeen Art Gallery, Blackburn Museum and Art Gallery, Bolton Art Gallery, Brighton and Hove Museums and Art Galleries, Dundee Art Galleries and Museums, Bradford Museums and Galleries, Williamson Art Gallery, Watts Gallery, Compton, Surrey, Glasgow Museums, Ferens Art Gallery, Leeds City Art Gallery, Gallery Oldham, Tate Gallery, Manchester City Art Gallery, Laing Art Gallery, Harris Museum and Art Gallery, Rochdale Art Gallery, Towner Art Gallery, Graves Art Gallery and the National Trust.

An appreciation of his work, with illustrations, appeared in the 'Studio Magazine' by Marion Hepworth Dixon, volume 55, 1912.

Stott died at Amberley, Sussex. He bequeathed £25,000 to the Royal Academy of Arts for travelling scholarships and he is buried at St Michaels Church, Amberley, West Sussex.
Text source: Liss Llewellyn / Valerie Webb, 'Edward Stott (1855–1918), A Master of Colour and Atmosphere'