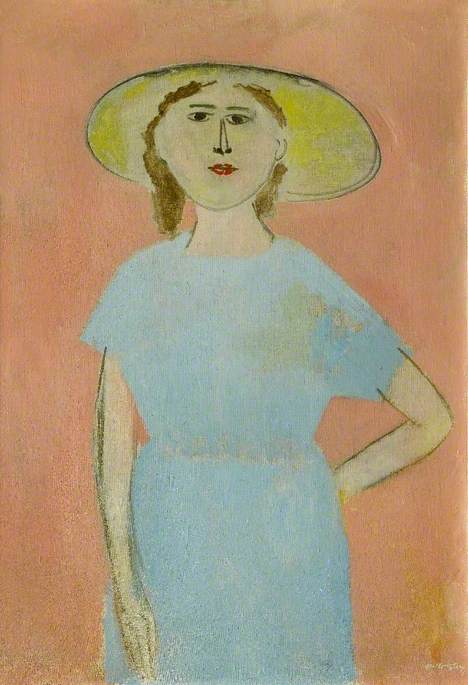 © the copyright holder. Photo credit: Arts Council Collection, Southbank Centre, London
Painter, draughtsman, designer and printmaker, born in Dublin, Ireland. The family of her father, a dentist, was of Russian origin. Stella was at Alexandra College until 1924, when, aged 16, she started at the Metropolitan School of Art. Her teacher, Patrick Tuohy, encouraged her first visit to Paris, in 1926, and for the next five years she divided her time between the two capitals, studying at Académie Scandinave and at L'Académie de la Grande Chaumière. Through Tuohy Steyn met James Joyce, producing etchings to illustrate Finnegans Wake, published in Transition in 1929. Next Steyn studied in Germany, at Stuttgart and at the Bauhaus, Dessau, 1931–2, going there with a personal recommendation to Kandinsky. Although she did some typography-oriented work in the Bauhaus style, the school "made a very dreary impression" on her and she eventually reverted to the painterly precepts of the School of Paris (the British Museum holds some of Steyn's experimental Bauhaus lithographs).
Read more
Because of her Jewish background, Steyn's mother urged her to leave Germany. She met David Ross, marrying him in 1938, and they lived in England, eventually settling in London from around 1950 when he was appointed professor of French at Birkbeck College. Steyn had shown in Dublin and London between the wars. As well as accepting advertising commissions, she exhibited at the RA, Contemporary Art Society; the Carnegie International, Pittsburgh, 1952; Hampstead in the Thirties, at Camden Arts Centre, 1974–5; and Recent Acquisitions, British Museum, 1976. She showed paintings in two solo shows at Leicester Galleries, 1951 and 1954. After her death Abbott & Holder sold some of Steyn's early prints. There were shows at Gorry Gallery, Dublin, 1995, Belgrave Gallery, 1996, and Molesworth Gallery, Dublin, in 2001. Hugh Lane Gallery in Dublin, Irish National Portrait Collection in Limerick and Ulster Museum in Belfast hold examples.
Text source: 'Artists in Britain Since 1945' by David Buckman (Art Dictionaries Ltd, part of Sansom & Company)