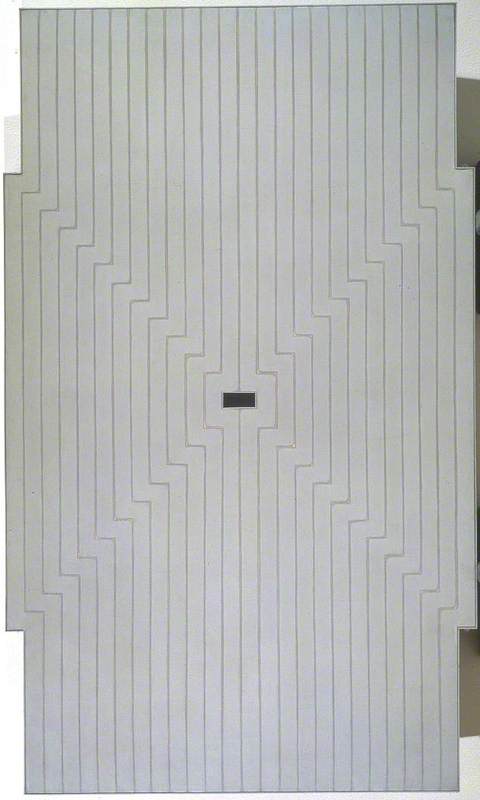 © ARS, NY and DACS, London 2021. Photo credit: Tate
(b Malden, Mass., 12 May 1936). American painter, a leading figure of Post-Painterly Abstraction. In his early work he was influenced by Abstract Expressionism, but after settling in New York in 1958 he was impressed by the flag and target paintings of Jasper Johns and the direction of his art changed completely. He began to emphasize the idea that a painting is a physical object rather than a metaphor for something else, saying that he wanted to 'eliminate illusionistic space' and that a picture was 'a flat surface with paint on it—nothing more'. These aims were first given expression in a series of black 'pinstripe' paintings in which regular black stripes were separated by very thin lines. They made a big impact when four of them were shown at the Museum of Modern Art's '16 Americans' exhibition in 1959, inspiring a mixture of praise and revulsion.
Read more
To identify the patterning more completely with the shape of the picture as a whole he began—from the beginning of the 1960s—to use notched and shaped canvases, often painting in flat bands of bright colour. In the 1970s he began to experiment with paintings that included cut-out shapes in relief and he abandoned his impersonal handling for a spontaneous, almost graffiti-like manner (Guadalupe Island, Caracara, 1979, Tate, London). Stella has been an influential figure, not only in painting but also on the development of Minimal sculpture (his friends have included Carl Andre and Donald Judd). He has made sculpture himself, as well as prints in various techniques, particularly lithography.
Text source: The Oxford Dictionary of Art and Artists (Oxford University Press)