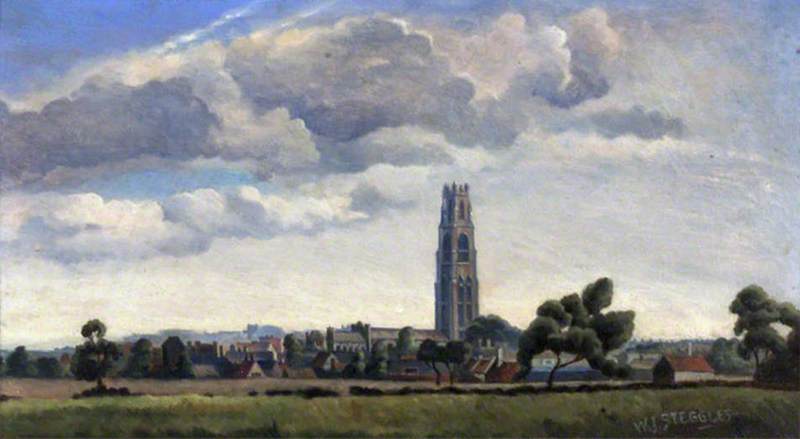 © Walter Steggles Bequest. Photo credit: The Collection: Art & Archaeology in Lincolnshire (Usher Gallery)
Painter, notably of small landscapes in oil, with some watercolours and prints, born in London, brother of the artist Harold Steggles. Attended Charles Genge's classes at the Bethnal Green Men's Institute, then John Cooper's there from 1925, moving with him to the Bow and Bromley Evening Institute which led to the formation of the East London Group and shows through the 1930s at Lefevre Gallery. Other teachers included William Coldstream, Rodrigo Moynihan and Gerald Ososki. At West Ham Technical College Steggles set about learning engraving and etching, but although encouraged by Colnaghi, the early-1930s slump in the trade thwarted these ambitions. Additional studies took place, 1939–48, at Central School of Arts and Crafts under Kirkland Jamieson, F J Porter and Bernard Meninsky.
Read more
For some years Steggles was employed in the drawing office of the shipping company Furness Withy, then worked for the Ministry of Transport in World War II. Although he shared a show with his brother at Lefevre in 1938, he favoured mixed exhibitions. Here he was prolific, including Whitechapel Art Gallery; Tate, Redfern, Agnew, Tooth and Mayor Galleries; widely in the provinces and abroad. Lived for many years in East Anglia and was a member of the Norfolk and Norwich Art Circle. Designed posters for Shell. Had three pictures bought by Contemporary Art Society; Manchester City Art Gallery holds two. Lived latterly in Bradford-on-Avon, and briefly at Calne, Wiltshire.
Text source: 'Artists in Britain Since 1945' by David Buckman (Art Dictionaries Ltd, part of Sansom & Company)