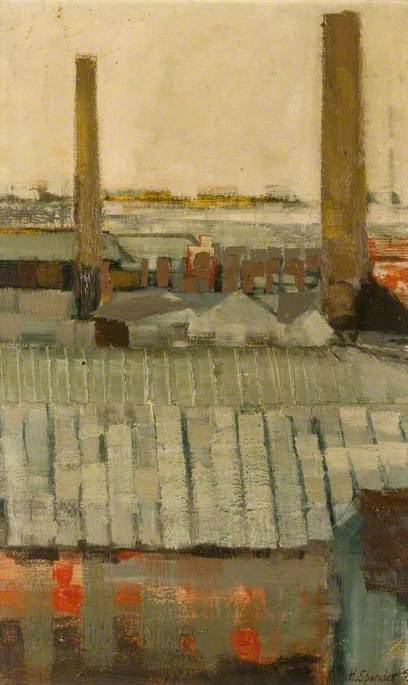 © the Humphrey Spender Archive. Photo credit: Luton Culture
Painter, pencil draughtsman, photographer, designer and teacher, born in London, full name John Humphrey Spender, brother of the poet Stephen Spender. He was a fellow of the Society of Industrial Artists and Designers and an honorary designer, Royal College of Art. Spender attended Gresham's School, Holt, then in 1928 went to Freiburg in Breisgau (Schwarzwald) University, "for language (under cover of history of art)". From 1928–34 Spender gained his diploma at the Architectural Association School of Architecture. His teachers included Howard Robertson. In 1935–41 Spender took a photographic studio, working for Picture Post, Mass Observation and the Daily Mirror as Lensman (in 1987 a book of Lensman photographs was published with Spender's introduction).
Read more
A retrospective show of his photographs was held at the Yale Center for British Art in America in 1997, catalogued as Humphrey Spender's Humanist Landscape: Photo-Documents 1932–42, by Deborah Frizzell. World War II Army service included photo-interpretation of V1 and V2 rocket sites and D-Day invasion maps. Between 1946–56 did varied freelance work, including textiles, carpets, wallpapers and murals, winning Council of Industrial Design awards four times, between 1956–76 adding teaching at Royal College of Art textile school. As well as numerous mixed shows, Spender had solo painting exhibitions including Redfern and Leicester Galleries, New Art Centre and provincial venues. There were also solo photographic exhibitions, including Arnolfini Gallery, Bristol, retrospective, with tour, 1982. The National Portrait Gallery in 2002–3 featured Spender's photographs of writers, artists and performers. Among Spender's widely varied commissions, which included work for Festival of Britain, British Rail and Shell International, was the design of the Maldon Millennium Embroidery, which he finished in 1990. Victoria & Albert Museum, Ministry of Works and many provincial galleries hold pictures by him. Spender hoped that his paintings "might make people see differently". Lived in Maldon, Essex.
Text source: 'Artists in Britain Since 1945' by David Buckman (Art Dictionaries Ltd, part of Sansom & Company)