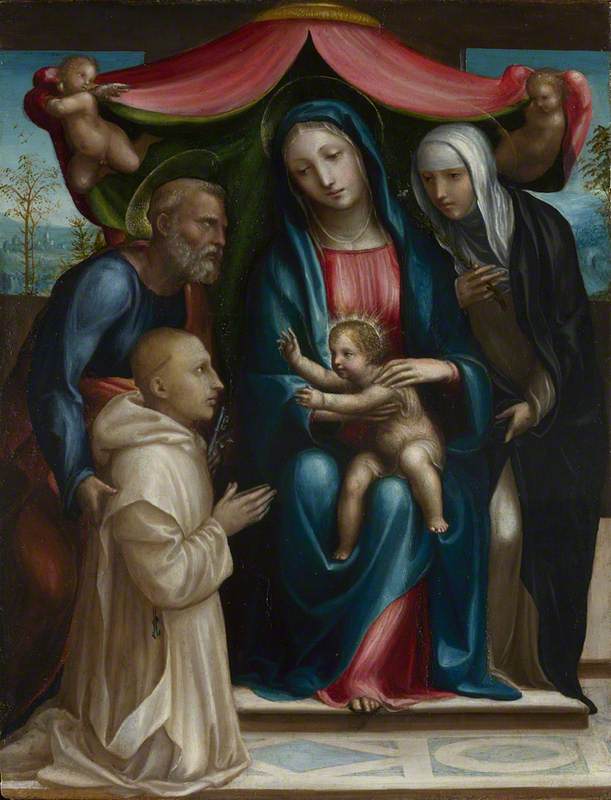 Photo credit: The National Gallery, London
(b Vercelli, 1477; d Siena, 15 Feb. 1549). Italian painter, active chiefly in and around Siena, where he settled in about 1500, but also in Rome. Vasari, who disliked him, explains the origin of his nickname 'the sodomite' in this fashion: 'His manner of life was licentious and dishonourable, and as he always had boys and beardless youths about him of whom he was inordinately fond, this earned him the nickname of Sodoma; but instead of feeling shame, he gloried in it, writing stanzas and verses on it, and singing them to the accompaniment of the lute.' Sodoma (who was married and had children) himself used the name in his signature, and Vasari's explanation of it has been questioned. Vasari also tells us that Sodoma kept a menagerie of strange animals 'so that his home resembled a veritable Noah's ark'.
Read more
He was a prolific painter of frescos and easel pictures, and he drew on a variety of sources that were not always fully digested; consequently his work often has incongruous juxtapositions and a general air of uncoordination, but it also possesses charm and a flair for decoration. His fresco of the Marriage of Alexander and Roxane (c.1516), painted for the banker Agostino Chigi in his villa (now the Villa Farnesina) in Rome, is often cited as his finest work. In his time Sodoma was considered the leading artist in Siena, but later critics have come to rank Beccafumi above him.
Text source: The Oxford Dictionary of Art and Artists (Oxford University Press)