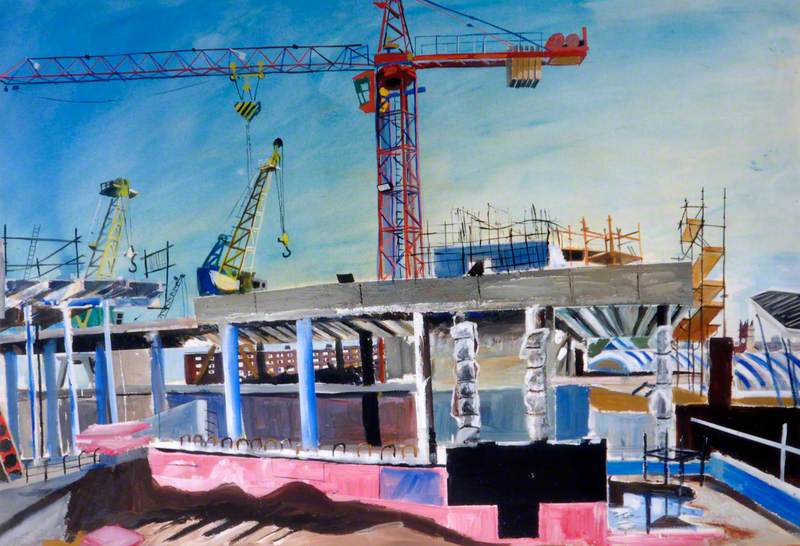 © the artist. Photo credit: University of Sunderland
Artist in watercolour and gouache on paper and teacher, born in Taunton, Somerset. He did a foundation course at Taunton College of Art, 1974–5; gained a first-class honours degree, fine art painting, from Birmingham Polytechnic, 1975–8; then his master's from Royal College of Art's painting school, 1979–82. Teachers included Alan Miller and Mario Dubsky. Soden wrote that he was "a painter of contemporary and political themes," much work stemming "from a dialogue with the English topographical tradition of landscape painting, in particular Girtin, Cotman and Turner." Among his many awards were, latterly, a Northern Arts Major Print Bursary, Lowick House Print Workshop, Cumbria, 1992; First Prize Open Class, Honiton Festival Art Competition, 1994; and 1st Prize, The Journal (Newcastle) Art Competition, 1996, being runner-up in 1997.
Read more
From 1983 he held a number of visiting lectureships in polytechnic and university fine arts departments in Birmingham, Newcastle, Bristol, Newport, Leicester and Sunderland, and he also held many residencies and placements. Among a string of commissions were London Tourist Board, Silver Jubilee, 1988; National Museum of Science and Industry, Science Museum, 1994; and University of Sunderland, 1995. Among later numerous group showings were Artists' London, Museum of London, 1992–3; British Watercolours, Laing Art Gallery, Newcastle upon Tyne, 1993–4; Drawing Outside, Sunderland Museum and Art Gallery, Sunderland, 1994–5; and City Journeys, London Arts Café, 1996. Had a solo show at Mappin Art Gallery, Sheffield, 1984, others including Walker Art Gallery, Liverpool, and State House, Cologne, 1987; Eye Diary, Bede Gallery, Jarrow, 1992; and Review, Durham Art Gallery and DLI Museum, Durham, 1995. Lived in Sunderland, Tyne & Wear.
Text source: 'Artists in Britain Since 1945' by David Buckman (Art Dictionaries Ltd, part of Sansom & Company)