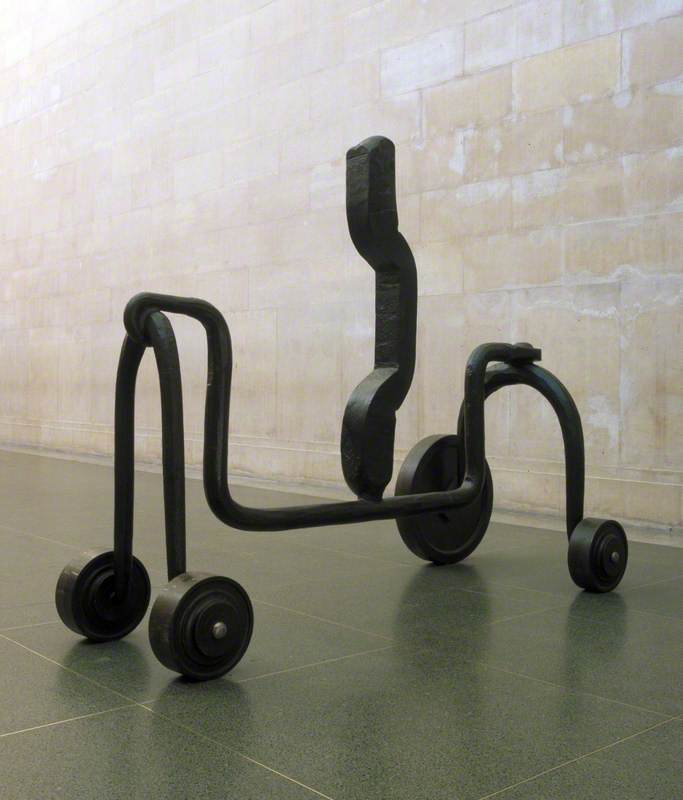 © estate of David Smith/DACS, London/VAGA, New York 2022. Photo credit: Tate
(b Decatur, Ind., 9 Mar. 1906; d nr. Bennington, Vt., 23 May 1965). The most original and influential American sculptor of his generation. He began to study art at Ohio University in 1924 but soon dropped out of the course, and in the summer of 1925 he worked at the Studebaker motor plant at South Bend, Indiana, where he acquired the skills in metalwork that stood him in good stead later in his career. From 1926 to 1930 he studied painting at the Art Students League of New York, while supporting himself by a variety of jobs. Among his friends at this time were Arshile Gorky and Willem de Kooning. He turned to sculpture in the early 1930s, making his first welded iron pieces (probably the first by an American artist) in 1933. These were inspired by Julio González, to whom Smith said he owed his 'technical liberation', but he always maintained that there was no essential difference between painting and sculpture and his aesthetic outlook was more influenced by Kandinsky, Mondrian, and Cubism.
Read more
By the time of his first one-man exhibition in 1938 he was producing sculpture of considerable originality, constructing pieces from steel and 'found' scrap, parts of agricultural machinery, etc. His passion for technology was expressed when he wrote: 'The equipment I use, my supply of material, comes from factory study, and duplicates as nearly as possible the production equipment used in making a locomotive…What associations the metal possesses are those of this century: power, structure, movement, progress, suspension, destruction, brutality.'Smith settled at Bolton Landing in upstate New York in 1940. In the same year he exhibited a set of fifteen bronze relief plaques entitled Medals for Dishonor stigmatizing violence and greed. He was employed as a welder on defence work 1942–4, then returned to sculpture, and from this time began to build an international reputation. During the 1940s and 1950s his sculpture was predominantly open and linear, like three-dimensional metal calligraphy (Hudson River Landscape, 1951, Whitney Mus., New York). From the end of the 1950s, however, his style became more monumental and geometrical, with boxes and cylinders of polished metal joined at odd angles. Although the forms are often massive, the effect they create is not one of heaviness but of unstable dynamism, the exhilarating sense of freedom being enhanced by the reflection of sunlight from the bright surfaces (they are usually intended for outdoor settings). These works were often created in series, such as Zig, Cubi, and Voltri. They initiated a new era in American sculpture, and gave Smith a place as the peer of the great Abstract Expressionist painters who were his contemporaries. Like the most famous of the Abstract Expressionists, Jackson Pollock, Smith died in an automobile accident.
Text source: The Oxford Dictionary of Art and Artists (Oxford University Press)