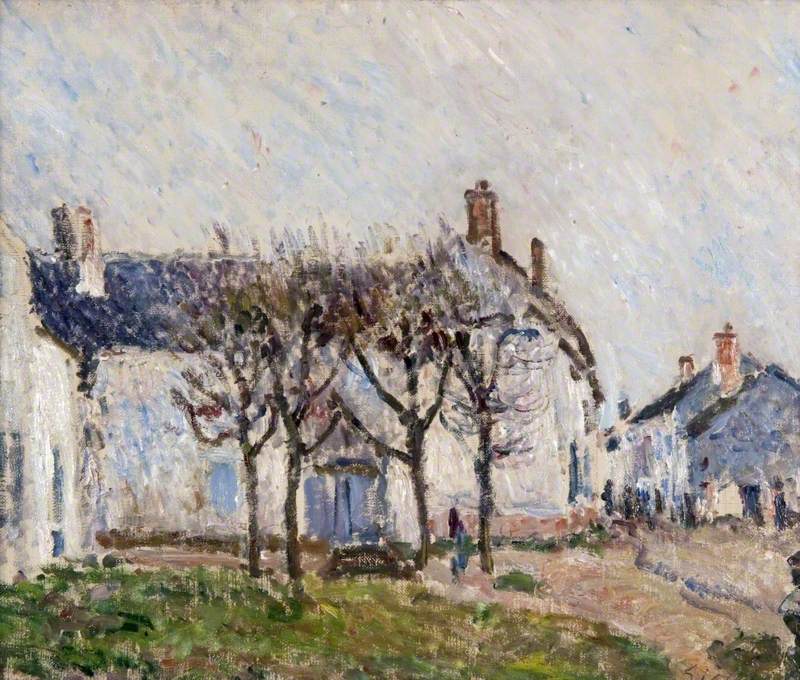 Photo credit: Glasgow Museums
(b Paris, 30 Oct. 1839; d Moret-sur-Loing, nr. Fontainebleau, 29 Jan. 1899). Anglo-French Impressionist painter; although he is generally regarded as French, his parents were English and he was a British citizen throughout his life (he twice unsuccessfully tried to become a naturalized Frenchman). His father was a businessman who spent much of his life in Paris, and Sisley was destined for a commercial career before he turned to painting. In 1862 he entered the studio of Gleyre and there met Renoir, Monet, and Bazille, with whom he formed the early nucleus of the Impressionist group. Like Monet, Sisley devoted himself almost exclusively to landscape, but his work was much less varied. He made several visits to England (he also went to Wales in 1897), but otherwise rarely travelled, and most of his pictures are of scenes in and around Paris.
Read more
The best are among the most lyrical and gently harmonious works of Impressionism, delicate in touch and with a beautiful feeling for tone (Flood at Port-Marly, 1876, Mus. d'Orsay, Paris). Sisley was given a generous allowance by his wealthy father and his early life was happy: Renoir described him as 'a delightful human being' and said he 'could never resist a petticoat'. However, after the family business failed in 1871 because of the Franco-Prussian War, his father was unable to support him and thereafter he spent much of his life in poverty, never winning the success or renown of his former colleagues. Although his paintings now command huge sums, he still remains something of a Cinderella among the Impressionists, claimed as their own by neither the French nor the English.
Text source: The Oxford Dictionary of Art and Artists (Oxford University Press)