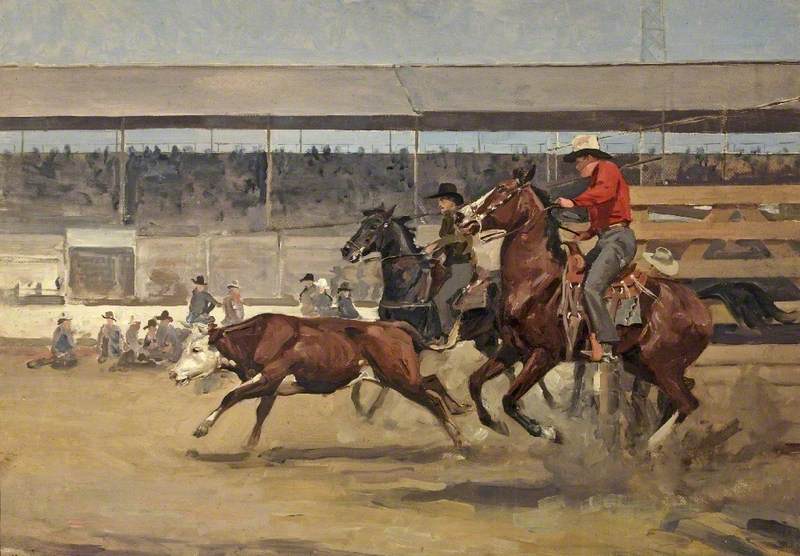 © the artist's estate. Photo credit: Russell-Cotes Art Gallery & Museum
Painter in oil, tempera and watercolour mainly of landscapes, marine pictures, animals, hunting scenes and birds; writer. Born in Camberley, Surrey, a riding accident prevented Simpson from pursuing a military career. Studied art in Paris at the Académie Julian and privately. Married Ruth Alison, a portrait painter. They moved to St Ives, Cornwall, in World War I, where they ran a painting school before moving on to London in 1924, and returning to Cornwall in 1931. Exhibited at RA, RI, Royal Glasgow Institute of the Fine Arts and Paris Salon. His work is owned by the Laing Art Gallery and Museum, Newcastle upon Tyne, and by galleries in Doncaster, Derby, Bournemouth and abroad. In the 1920s rodeo displays at the Wembley Empire Exhibition inspired Simpson's lively book El Rodeo.
Read more
He went on to publish a number of other titles, including Leicestershire and its Hunts, The Harboro' Country, Animal and Bird Painting and an autobiography, The Fields of Home. Simpson won a silver medal at the Paris Salon in 1923 and gold medals at the Panama International Exposition at San Francisco, in 1915, and at the exhibition of sporting paintings held in Paris connected with the Olympic Games in 1924. As a painter of wildfowl Simpson can have few rivals. In 2005, Penlee House Gallery, Penzance, held a major exhibition, Charles Simpson: Painter of Animals & Birds, Coastline & Moorland, Sansom & Company publishing the accompanying book by John Branfield. Lived at Alverton, Penzance, Cornwall.
Text source: 'Artists in Britain Since 1945' by David Buckman (Art Dictionaries Ltd, part of Sansom & Company)