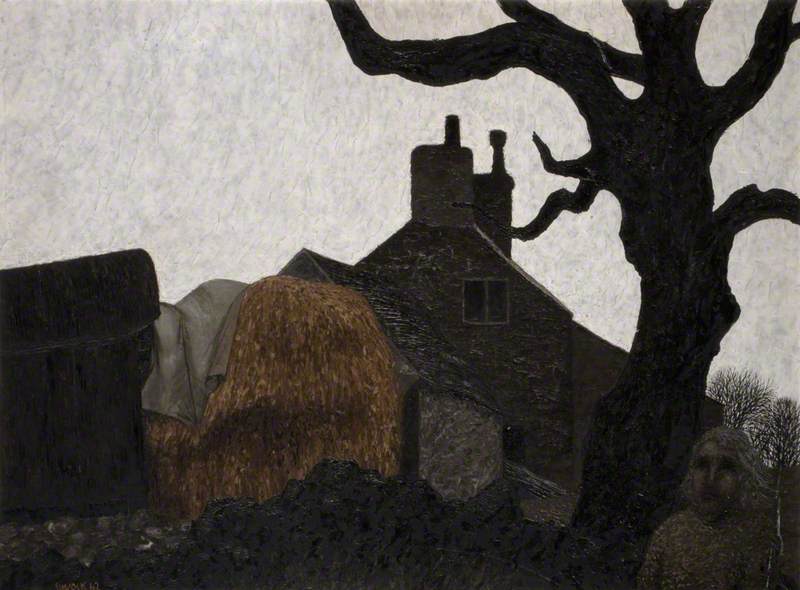 © the artist's estate. Photo credit: Keele University Art Collection
Painter, teacher and poet, born in Biddulph, Staffordshire, son of a coal miner. Simcock was for many years noted for bleak, sombre landscapes, which are instantly identifiable. He wrote that he "began to paint in 1945, more seriously in the Army in 1948." He attended Stoke-on-Trent School of Art periodically, 1949–55. "I began painting 'Simcocks' in 1954." Started teaching at a private school, 1953, and was a visiting lecturer at his old art school in 1965, but retired from all teaching in 1967. After showing locally, Simcock began exhibiting at Piccadilly Gallery in 1956, after which it became his agent; he had more than 50 solo shows, including overseas. Because of ill-health, from 1979 Simcock could not paint for a while, then in 1980 he began to produce small, brightly coloured abstracts, "which caused longstanding admirers much confusion".
Read more
These were exhibited by his new agent, John Hunt, in 1997. Simcock also exhibited in many mixed exhibitions, including John Moores Liverpool Exhibition, 1957, where he was a prize winner. The autobiography, Simcock, Mow Cop – the mountain village where he lived for many years on the Staffordshire/Cheshire border – was published in 1975, along with his first volume of poetry, Midnight Till Three. Tate Gallery, Contemporary Art Society, many provincial public galleries, education authority collections and foreign art galleries hold examples.
Text source: 'Artists in Britain Since 1945' by David Buckman (Art Dictionaries Ltd, part of Sansom & Company)