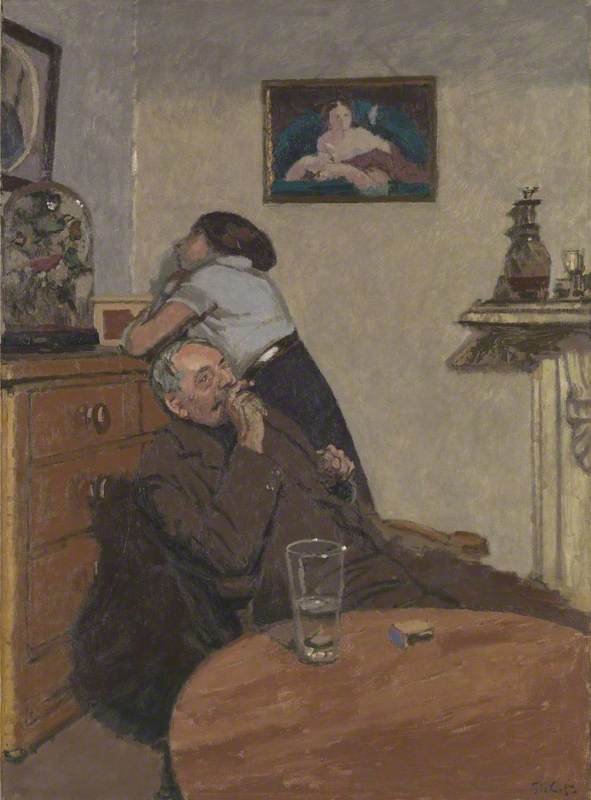 (Born Munich, 31 May 1860; died Bathampton, Somerset, 22 January 1942). British painter, printmaker, teacher, and critic, one of the most important figures of his time in British art. He was born in Germany of a Danish-German father and an Anglo-Irish mother and his outlook was appropriately cosmopolitan. The family settled in London in 1868. Both his father and his grandfather were painters, but Sickert—after a good classical education—initially trained for a career on the stage, 1877–81. He toured with Sir Henry Irving's company but never progressed beyond small parts and in 1881 he abandoned acting and became a student at the Slade School. In the following year he became a pupil of Whistler, and in 1883 he worked in Paris with Degas. Between 1885 and 1905 he spent much of his time in Dieppe, living there 1899–1905, and also visited Venice several times. From 1905, when he returned to England, he became the main channel for influence from avant-garde French painting in British art—inspiring a host of younger artists with the force of his personality as well as the quality of his work. The Allied Artists' Association (1908), the Camden Town Group (1911), and the London Group (1913) were all formed largely by artists in his circle. In 1918–22 he again lived in or near Dieppe, then settled permanently in England, living in London and Brighton before moving to Broadstairs, Kent (1934), and finally to Bathampton, near Bath (1938).
Read more
Sickert took the elements of his style from various sources but moulded them into a highly distinctive manner. From Whistler he derived his subtle modulations of tone, although his harmonies were more sombre and his touch rougher, using thick crusty paint. To Degas he was indebted particularly for his method of painting from photographs and for the informality of composition this encouraged. His favourite subjects were urban scenes and figure compositions, especially pictures of the theatre and music hall and drab domestic interiors. Sickert himself wrote in 1910 that 'The more our art is serious, the more will it tend to avoid the drawing-room and stick to the kitchen.' This attitude permeates his most famous painting, Ennui, a compelling image of a stagnant marriage, of which he painted several versions, that in the Tate, London (c.1914), being the largest and most highly finished. His later works—often based on press photographs or Victorian illustrations—are very broadly handled, with the canvas often showing through the paint in places. The colour is generally much higher keyed than in his earlier work and sometimes almost Expressionist in its boldness. The prevailing critical opinion for many years was that these late works marked a significant decline, but major claims have recently been made for them, particularly following the 1981 Arts Council exhibition 'Late Sickert: Painting 1927 to 1942'.

As well as painting, Sickert was an outstanding etcher (he learnt the technique from Whistler) and a great teacher (he opened seven private art schools, each of brief duration, and also taught part-time at Westminster School of Art, 1908–12 and 1915–18). He was celebrated for his wit and charm and was a stimulating talker and an articulate writer on art; Osbert Sitwell edited a posthumous collection of his writings entitled A Free House! (1947). Sickert was married three times; his third wife (from 1926) was the painter Thérèse Lessore (1884–1945). His brother Bernard Sickert (1862/3–1932) was a landscape painter and etcher. He was a member of the New English Art Club.

Since the 1970s there have been several misguided attempts (in books and television programmes) to implicate Sickert in the Jack the Ripper murders that brought terror to the Whitechapel district of London in autumn 1888: apart from other considerations, Sickert was probably in France when most of the crimes were committed.
Text source: The Oxford Dictionary of Art and Artists (Oxford University Press)