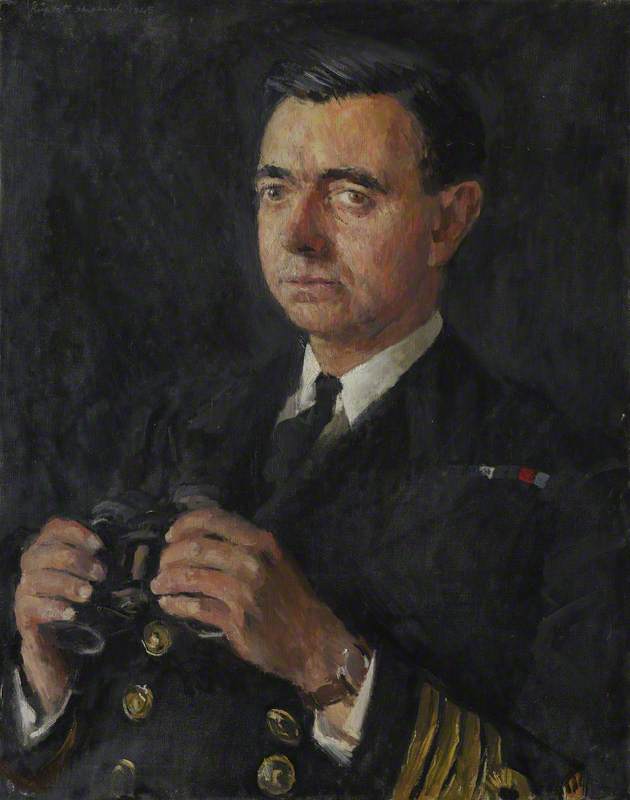 © the artist's estate. Photo credit: National Maritime Museum, Greenwich, London
Painter, draughtsman and teacher, born in London, where he continued to live. He studied at Slade School of Fine Art, 1926–9, and began to show with LG, Cooling Gallery and with Euston Road School painters, with whom he shared a style. Had first solo show at Calmann Gallery in 1939, the year he painted two portraits of Dylan Thomas, later bought by National Portrait Gallery. During World War II Shephard worked as a draughtsman in industry. He was appointed an Official War Artist in 1945, the year he joined NEAC, about this time also showing at Leicester Galleries. Shephard taught part-time at Central and St Martin's Schools of Art, 1945–8, then from 1948–63 held the post of professor of fine art at University of Cape Town, showing there and in Johannesburg.
Read more
On his return to England Shephard became a full-time painter, struggling to re-establish his reputation, which he did with a long series of solo shows, including Agnew, Patrick Seale Gallery, National Museum of Wales in Cardiff and Sally Hunter Fine Art. In 1972 he was elected RP. By then he had been married seven years to Nicolette Macnamara, widow of the painter Anthony Devas and herself a writer and painter.
Text source: 'Artists in Britain Since 1945' by David Buckman (Art Dictionaries Ltd, part of Sansom & Company)