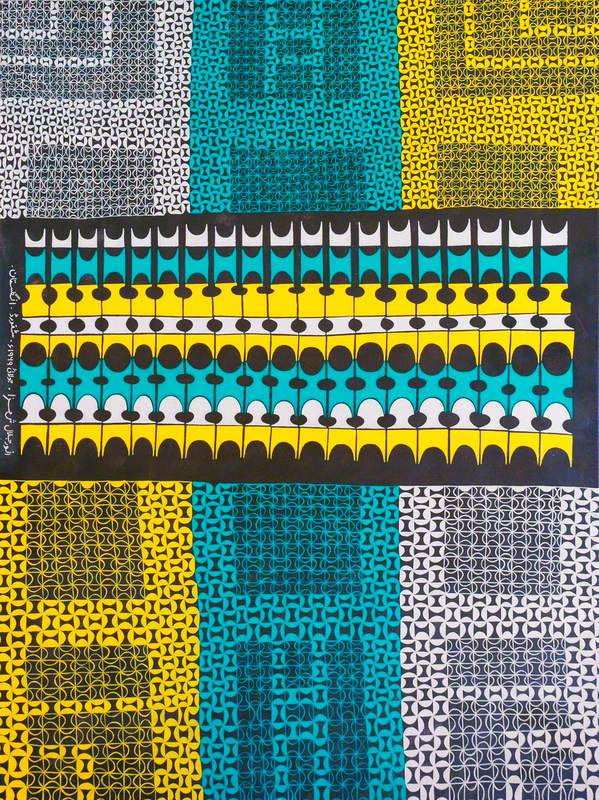 © The Estate of Anwar Jalal Shemza. All rights reserved, DACS 2021. Photo credit: Bradford Museums and Galleries
Painter, writer and teacher, born in Simla, India, into a cultured family. He studied at Mayo School of Art, in Lahore, Pakistan, 1943–6, and set up a commercial art studio in Simla, but had to give this up during Indian partition, when he joined his family in Lahore. While conducting career as a writer he worked towards several group shows in Lahore, 1953–6, also founding the Lahore Art Group. British Council scholarship took him to Slade School of Fine Art, 1956–9, after which he did postgraduate research in graphic arts at the Slade in 1960. After a return to Pakistan in that year, where he had several shows, Shemza returned to England, settling in Stafford, where he taught. Grounded in Islamic abstract art Shemza also absorbed Western influences, although he had some problems in establishing a distinct identity along the way.
Read more
Participated in many international group shows, and one-man exhibitions in Britain included New Vision Centre Gallery, 1959 and Ashmolean Museum, Oxford, 1964. Retrospective at Canberra Playhouse, England, 1987. Bradford Museum and Art Gallery holds his work. Was a participant in The Other Story, Hayward Gallery and touring, 1989–90. Shemza was given a retrospective at Birmingham Museum & Art Gallery in 1997–8.
Text source: 'Artists in Britain Since 1945' by David Buckman (Art Dictionaries Ltd, part of Sansom & Company)