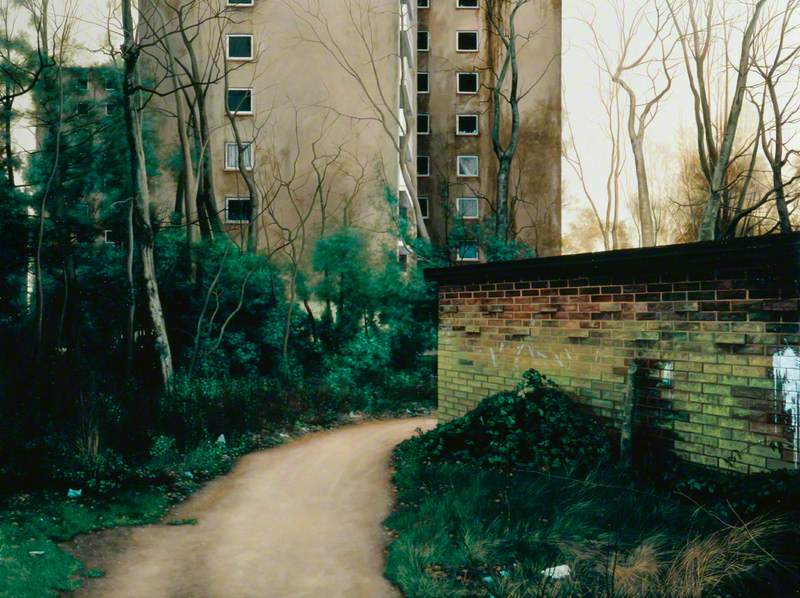 © the artist. Photo credit: Government Art Collection
Painter, born in Coventry, Warwickshire, who graduated in fine art from Sheffield Polytechnic, 1986–9; did a postgraduate certificate there, 1991–2; and gained his master's in painting at Royal College of Art, 1996–8. His degree show was a sell-out. Shaw obtained a Messier-Dowty Travel Award to Paris, Zürich and New York, and a Paris Studio Award, Cité Internationale des Arts, both 1997, and a TI Group Award, 1998. Group exhibitions included Interesting Painting, City Racing, 1997; New Contemporaries, Tea Factory, Liverpool, and tour, also British Council Window, Prague, Czechoslovakia, both 1998; Landgang, Fabian Walter Galerie, Basel, Switzerland, 1999; and Days Like These, Tate Britain, 2003. Shaw had a solo show at Graves Art Gallery, Sheffield, 1992; God Only Knows, Royal College, 1998; Of Innocence: Scenes from The Passion, Anthony Wilkinson Gallery, 1999; with another show there, Ash Wednesday, in 2005.
Read more
That show was also a sell-out, and by that time there was a long list of high-profile collectors seeking Shaw's work. What I did This Summer was an exhibition at Ikon, Birmingham, 2003. Shaw painted scenes in Humbrol enamel, unpopulated, sometimes bleak views of the Tile Hill estate and surrounding countryside of his childhood. He was a prize winner, John Moores Liverpool Exhibition, 1999. Tate Gallery, Birmingham Museums & Art Gallery, British Airways and TI Group hold his work. Shaw latterly lived in north Devon, where he continued to depict the Tile Hill of years gone. These pictures were based on numerous photographs which he had taken furtively like a hunter, as he described it to Andrew Graham-Dixon during his series The Secret of Drawing for BBC2 television in 2005.
Text source: 'Artists in Britain Since 1945' by David Buckman (Art Dictionaries Ltd, part of Sansom & Company)