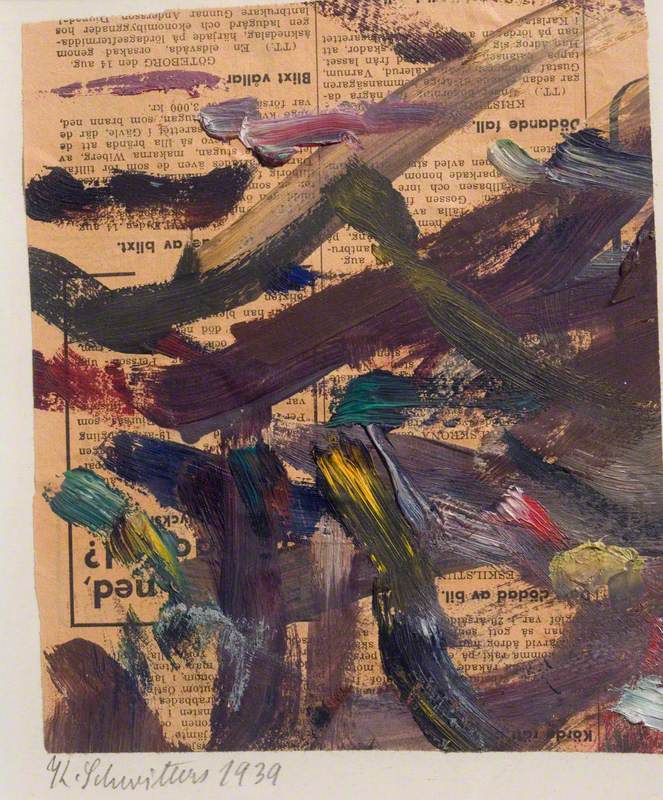 Photo credit: Victoria and Albert Museum, London
(b Hanover, 20 June 1887; d Kendal, Westmorland [now Cumbria], 8 Jan. 1948). German painter, sculptor, maker of constructions, writer, and typographer, a leading figure of the Dada movement who is best known for his invention of 'Merz'. Schwitters first applied this word to collages made from refuse, but he came to use it of all his activities, including poetry. He used the word as a verb as well as a noun: a fellow artist was once nonplussed when Schwitters asked him to merz with him. In his early work Schwitters was influenced by Expressionism and Cubism, but after the First World War (in which he served for a time as a draughtsman) he became the chief (indeed, virtually only) representative of Dada in Hanover. In 1918 he began making collages from refuse such as bus tickets, cigarette wrappers, and string, and in 1919 he invented Merz.
Read more
The name was reached by chance: whilst he was fitting the word Commerzbank (from a business letterhead) into a collage, Schwitters cut off some letters and used what was left. He called the collages Merzbilden (Merz pictures) and in about 1923 began to make a sculptural or architectural variant—the Merzbau (Merz building)—in his house in Hanover (it was destroyed by bombing in 1943). From 1923 to 1932 he published a magazine called Merz and in this period he was much occupied with typography. In 1937 his work was declared degenerate by the Nazis and in the same year he fled to Norway, where at Lysaker he began a second Merzbau (destroyed by fire in 1951). When the Germans invaded Norway in 1940, he moved to England, where he lived for the rest of his life—in London (after release from an internment camp) from 1941 to 1945, and then at Ambleside in the Lake District. Here, in an old barn at Little Langdale, near Ambleside, he began work on his third and final Merzbau, with financial aid from the Museum of Modern Art, New York. It was unfinished at his death and is now in the Hatton Gallery, Newcastle upon Tyne. The day before he died Schwitters received British citizenship.
Text source: The Oxford Dictionary of Art and Artists (Oxford University Press)