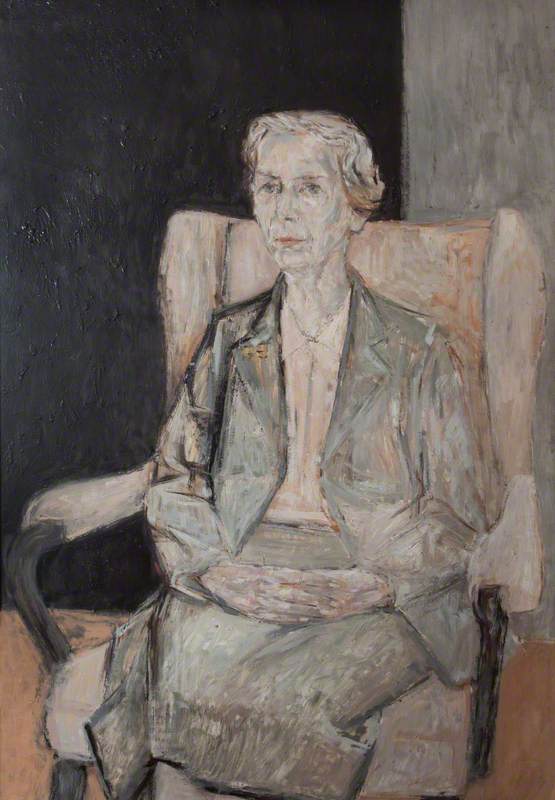 © the artist's estate. Photo credit: Girton College, University of Cambridge
Artist in oil and watercolour, sculptor, illustrator, teacher and writer, born in Vienna, Austria, where he attended the Art School, 1937–8. He was expelled by the Nazis in 1938 and moved to Birmingham in 1939, working as a labourer, was interned in 1940–1, then attended Birmingham School Arts and Crafts, 1941–3. As well as joining a commercial art studio, 1943–5, Schwarz began teaching part-time and worked in various art schools until 1966. He was a freelance illustrator from 1945, but gave up graphic design in 1964 to paint and sculpt full-time. He published Figure Painting, Colour for the Artist and Painting in Towns for Studio Vista and a series of art books for Pitman. Schwarz was a member of NEAC, RWS RP, RBA and the Contemporary Portrait Society as well as an honorary life member of the Hampstead Artists' Council.
Read more
Schwarz was awarded the Hunting Group Prize for the best watercolour of the year in 1981. His solo shows included a series at Thackeray Gallery from 1982; Compton Gallery, 1983; Ben Uri Gallery, 1985; Woodlands Art Gallery, 1991; Sternberg Centre, 1992; and The New Academy Gallery, 1995 and 2001. There was a studio sale at Bonhams, Knightsbridge, in 2004. His work is in many public collections, including portraits of Sir Nikolaus Pevsner, Lord Soper and Miles Malleson in National Portrait Gallery. His son Julian was also an artist. Lived in London.
Text source: 'Artists in Britain Since 1945' by David Buckman (Art Dictionaries Ltd, part of Sansom & Company)