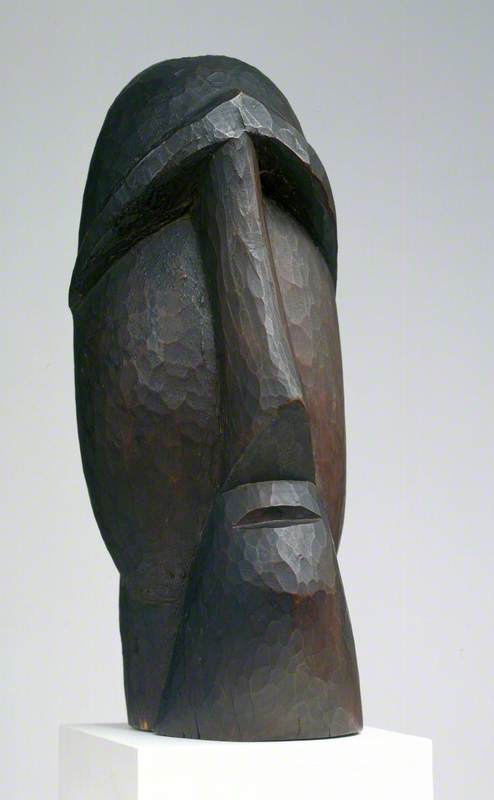 © DACS 2021. Photo credit: Tate
(b Rottluff, nr. Chemnitz, 1 Dec. 1884; d West Berlin, 10 Aug. 1976). German Expressionist painter, printmaker, and sculptor, born Karl Schmidt (he added 'Rottluff' to his name, from his place of birth, in 1906). In 1905 he was one of the founders of Die Brücke. He was the most independent member of the group, taking a limited part in its activities, and his style was harsher than that of the other members.
Read more
It was particularly forceful in his woodcuts, which are amongst the finest representatives of Expressionist graphic art. In 1906 he stayed with Nolde on the island of Alsten, Norway, and in 1907 he painted with Heckel at Dangast on the coast north-west of Bremen. Apart from landscapes such as the ones he painted in these places, his work included portraits, figure compositions, and still lifes. In 1911, with the other members of Die Brücke, Schmidt-Rottluff moved to Berlin, where he lived for most of the rest of his life. In the 1910s and 1920s he was influenced by the stylized forms of African sculpture (Dr Rosa Schapire, 1919, Tate, London). Later his style became somewhat more naturalistic. His work was declared degenerate by the Nazis and in 1941 he was forbidden to paint. In 1947 he became a professor at the Berlin Hochschule für Bildende Künste. The Brücke-Museum in Berlin was founded on his initiative in 1967 and he gave 60 of his own works to the collection. There are good collections of his graphic work in the Victoria and Albert Museum, London, and the New Walk Museum and Art Gallery, Leicester.
Text source: The Oxford Dictionary of Art and Artists (Oxford University Press)