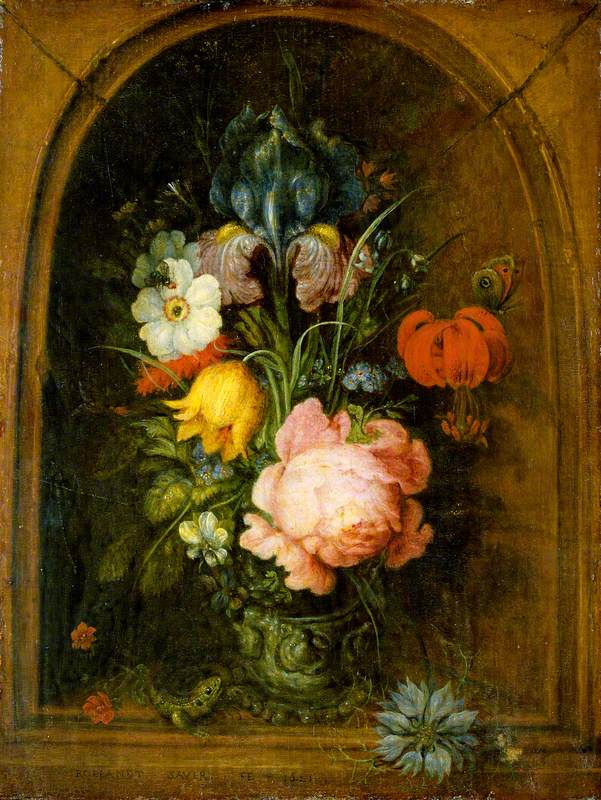 Photo credit: Victoria and Albert Museum, London
(b Courtrai [Kortrijk], ??1576; d Utrecht, 25 Feb. 1639). Flemish-born Dutch painter, draughtsman, and etcher of landscapes, animal subjects, and still life, the most distinguished member of a family of artists. He grew up in Amsterdam and spent much of his career in Utrecht (where he settled in 1619), but he is best known for his association with Prague, where he worked for the Emperor Rudolf II (see Habsburg) from 1603 to 1613. Rudolf's famous menagerie allowed him to study in detail the exotic animals that became the trademark of his work. He painted and drew creatures such as pelicans, ostriches, camels, and the now extinct dodo, and was one of the first artists in the Netherlands to do pictures of animals alone. His favourite subjects, however, were Orpheus and the Garden of Eden, which allowed him to include any number of colourful beasts.
Read more
Savery's bright and highly finished style is similar to that of Jan 'Velvet' Brueghel, but is somewhat more archaic. His rare flower paintings are sometimes of outstanding quality, and with Bosschaert (likewise Flemish-born) he was an influential early exponent of this genre in Holland. Houbraken says that Savery died insane. His brother Jacob Savery (b Courtrai, c.1565; d Amsterdam, 1603) was a painter, draughtsman, and etcher. He was influenced by Pieter Bruegel and numerous drawings formerly attributed to Bruegel are now considered to be deliberate forgeries by Jacob; other 'Bruegel' drawings are thought to be by Roelandt.
Text source: The Oxford Dictionary of Art and Artists (Oxford University Press)