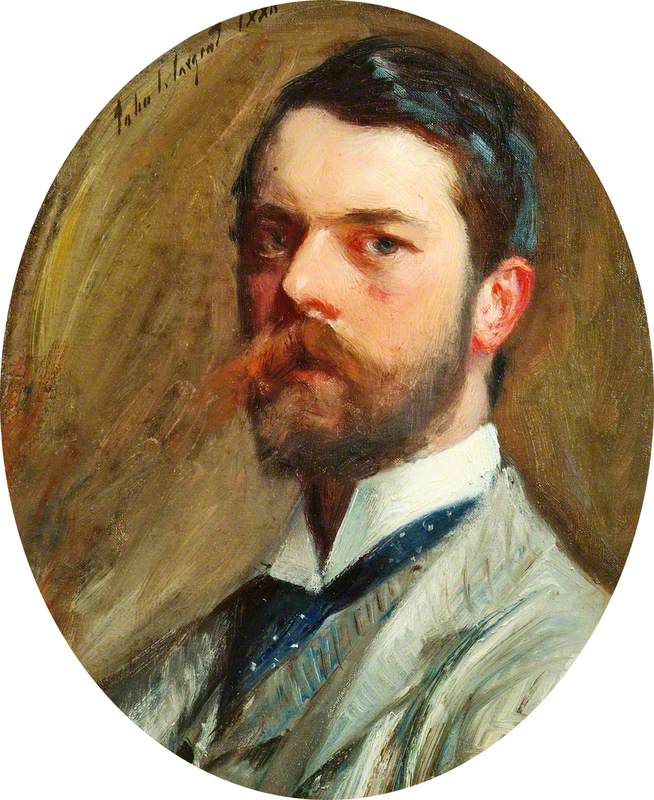 Photo credit: Aberdeen Art Gallery & Museums
(b Florence, 12 Jan. 1856; d London, 15 Apr. 1925). American painter, chiefly famous as the outstanding society portraitist of his age: Rodin called him 'the van Dyck of our times'. He was the son of prosperous and cultured parents who had settled in Europe, and he had an international upbringing and career: indeed, he was once described as 'an American born in Italy, educated in France, who looks like a German, speaks like an Englishman, and paints like a Spaniard' (William Starkweather, 'The Art of John S. Sargent', Mentor, Oct. 1924). His 'Spanishness' refers to his deep admiration for Velázquez, for although he was encouraged to paint directly by his teacher Carolus-Duran, with whom he studied in Paris 1874–6, the virtuoso handling of paint that characterized his style derived more particularly from Old Masters such as Velázquez and Hals (he visited Madrid in 1879 and Haarlem in 1880 to study their work).
Read more
In 1884 he became famous when his portrait of Madame Virginie Gautreau (Met. Mus., New York) caused a sensation at the Paris Salon because of what was felt to be its provocatively erotic character. It was exhibited as Madame X, but the sitter, a society beauty of strikingly unconventional looks, was unmistakable, and her mother wrote to Sargent imploring him to withdraw the picture, which she said had made her daughter a laughing stock (he refused to do so). The scandal persuaded Sargent to move to London, and he remained based there for the rest of his life; he continued to travel extensively, however, and often visited America. The lavish elegance of his work brought him unrivalled success, and his portraits of the wealthy and privileged convey with brilliant bravura the glamour and opulence of high society life. Even in his lifetime he was deprecated by some critics for superficiality of characterization, but although psychological penetration was certainly not his strength, he was admirably varied in his response to each sitter's individuality.As with many successful portraitists, Sargent's heart lay elsewhere; indeed he came to hate portraiture, calling it 'a pimp's profession'. In 1907—at the height of his career—he announced that he would paint 'no more mugs', and although he was occasionally persuaded to relent, essentially he kept his word and in the remaining eighteen years of his life he produced only about two dozen commissioned portraits. Despite his sophistication and charm and the entrée to high society that his success gave him, he was a very private person, who led a quiet life and never married. With portraiture behind him, he was free to produce work for his own satisfaction. He loved painting landscape watercolours, showing a technique as dashing in this medium as in his oil paintings, and from the 1890s he devoted much of his energies to ambitious allegorical murals in the Public Library and Museum of Fine Arts in Boston: 'Landscape I like, but, most of all, decoration, where the really aesthetic side of art counts for so much more.' For the Library his subject was the History of Religion (his friend E. A. Abbey painted a series on the quest for the Holy Grail for the same building at the same period). Sargent began work in 1890 and the paintings (in oil on canvas) were installed in stages between 1895 and 1916. They led to the commission from the Museum, for which he painted subjects from classical mythology between 1916 and 1925, completing the work shortly before his death. (As models for the Danaides he used dancing girls from the chorus line of the Ziegfeld Follies.) His murals are in a high-flown, sometimes rather dreary Symbolist manner and have evoked mixed reactions. A very different side to his talents is revealed in the enormous Gassed (1918–19, Imperial War Mus., London), which he painted as an Official War Artist. It has remarkable tragic power and is one of the greatest pictures inspired by the First World War. Sargent's reputation plummeted after his death but has soared again since the 1970s.
Text source: The Oxford Dictionary of Art and Artists (Oxford University Press)