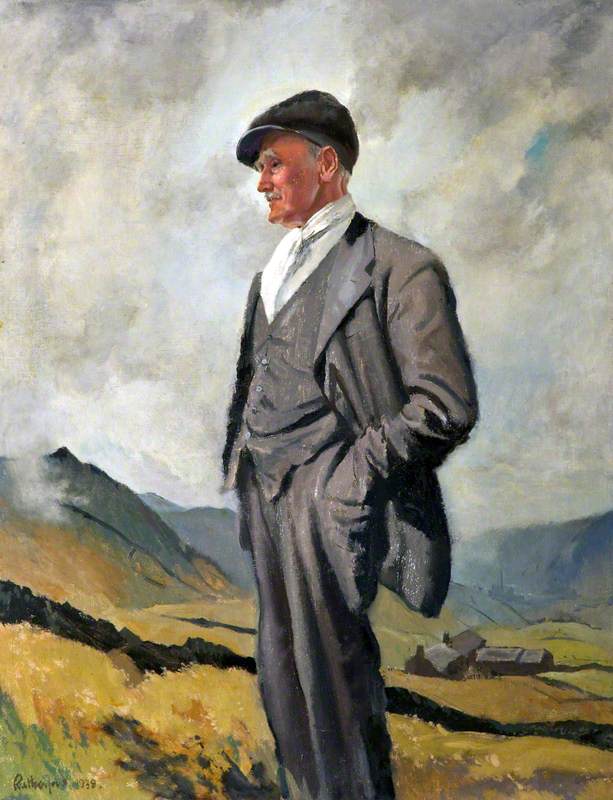 © the artist's estate. Photo credit: Gallery Oldham
Painter, illustrator and teacher. Born at Denton, Lancashire, he was encouraged by his father, William, hatter and keen amateur artist. While still at school Harry attended Hyde School of Art on Saturdays, then after leaving school joined evening classes at Manchester School of Art, supervised by Adolphe Valette, who taught the older L S Lowry. In 1925 joined Walter Sickert's art class in Manchester, in St Mary's Parsonage, taking over the class in 1926 when Sickert gave it up. Rutherford remained a disciple of Sickert, adopting the slogan "Thou shalt be interesting." In the late 1920s, having been head artist at the F John Roe Advertising Agency, and having begun to draw for the Manchester Evening News, Rutherford moved to Cornwall to work with Ernest and Dod Procter in Newlyn, supervising their classes for a period.
Read more
While at Newlyn his picture Penzance became his first accepted for the RA, in 1930. He then drew for the Duke of Devonshire at Chatsworth, moving to London in 1932 where he taught and freelanced for Fleet Street papers. Was associated with television before and after World War II, having his own programme, Sketchbook, for children. During the war he was attached to the Royal Air Force. Returned to Hyde in the 1950s; taught painting at the Regional College of Art, Manchester, until 1968; and in 1961 was made president of the MAFA, a position held for eight years. Completed a 30-foot mural for Hyde Town Hall in the late 1940s. Also exhibited NEAC, RBA, RP and Paris Salon. A number of public galleries hold Rutherford's work, typified by northern townscapes and personalities. Astley Cheetham Art Gallery, Stalybridge, which has a big collection of his work, put on a memorial show in 1985.
Text source: 'Artists in Britain Since 1945' by David Buckman (Art Dictionaries Ltd, part of Sansom & Company)