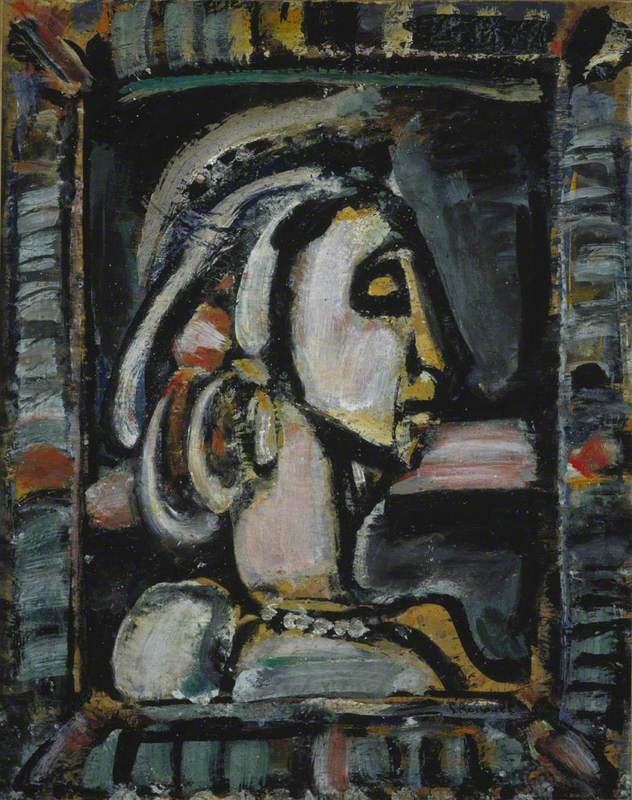 © ADAGP, Paris and DACS, London 2021. Photo credit: National Galleries of Scotland
(b Paris, 27 May 1871; d Paris, 13 Feb. 1958). French painter, draughtsman, printmaker, and designer who created a personal kind of Expressionism that gives him a highly distinctive place in modern art. From 1885 to 1890 he was apprenticed to a stained-glass maker, his work including the restoration of medieval glass; the vivid colours and strong outlines typical of the medium left a strong imprint on his work. In 1892 he became a fellow pupil of Matisse and Marquet under Gustave Moreau at the École des Beaux-Arts. He was Moreau's favourite pupil and in 1898 became the first curator of the Musée Moreau in Paris. At about the same time he underwent a psychological crisis and although he continued to associate with the group of artists around Matisse who were later known as Fauves, he did not adopt their brilliant colour or characteristic subjects; instead he painted characters such as clowns, prostitutes, and outcasts in sombre but glowing tones.
Read more
These subjects expressed his hatred of cruelty, hypocrisy, and vice, showing the ugliness and degradation of humanity with passionate conviction. His familiar cast of characters also included judges (The Three Judges, c.1936, Tate, London), on the subject of which he said: 'If I have made them such lamentable figures, it is doubtless because I betrayed the anguish which I feel at the sight of a human being who has to pass judgement on other men.' Initially such work disturbed the public, but Rouault achieved financial security after Vollard became his agent in 1917 and during the 1930s he gained international popularity. From about 1940 he devoted himself almost exclusively to religious art. In addition to his large output of paintings, drawings, and prints (in various techniques, often done as book illustrations), his work also included ceramics and designs for tapestry, for stained glass, and for Diaghilev's ballet The Prodigal Son (1929), for which the music was written by Prokofiev. By the time of his death he was a much-honoured figure and he was given a state funeral.
Text source: The Oxford Dictionary of Art and Artists (Oxford University Press)