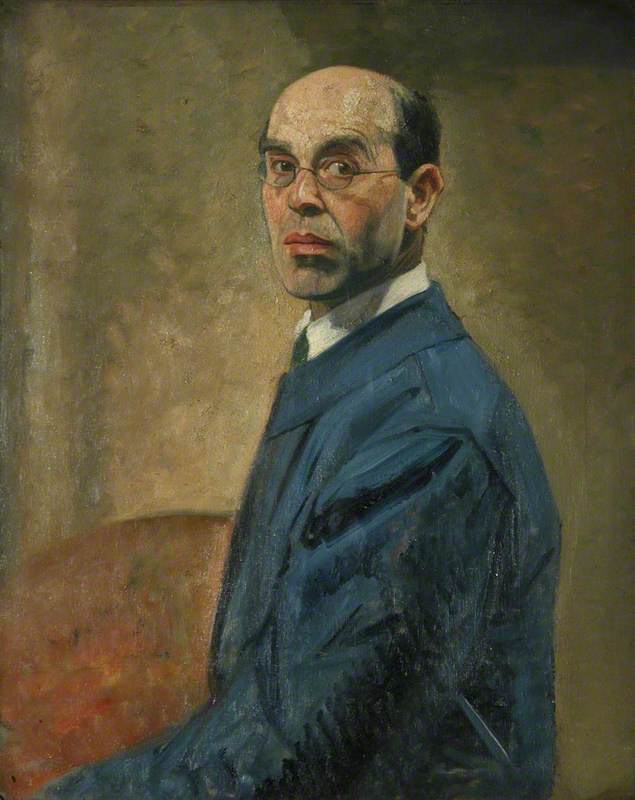 Photo credit: Royal College of Art
(b Bradford, 29 Jan. 1872; d Far Oakridge, nr. Stroud, Gloucestershire, 14 Feb. 1945). British painter, printmaker, draughtsman, writer, and teacher. He studied for a year at the Slade School (1888–9) under Alphonse Legros and afterwards at the Académie Julian in Paris. There he was encouraged by Degas and Pissarro, and he was also friendly with Whistler. His best works are generally thought to be his early Whistlerian paintings such as The Doll's House (1899, Tate, London), which shows Augustus John and Rothenstein's wife as characters in a tense scene from Ibsen's play A Doll's House. From about 1898, however, he specialized in portraits of the celebrated and those who later became celebrated. In his later career he was much more renowned as a teacher than a painter.
Read more
His outlook was conservative (he regarded pure abstraction as 'a cardinal heresy') and as principal of the Royal College of Art, 1920–35, he exercised an influence second only to that of Tonks at the Slade School in earlier decades. His books included three volumes of memoirs (1931–9). His brother Albert (1881–1953) was a painter, designer, and prolific book illustrator. In 1914 he changed his surname to Rutherston because of anti-German feeling. William's son, Sir John Rothenstein (1901–92), had a distinguished career as an art historian (he was director of the Tate Gallery, 1938–64, and wrote numerous books); another son, Michael Rothenstein (1908–93), was a painter, printmaker, and writer on art.
Text source: The Oxford Dictionary of Art and Artists (Oxford University Press)