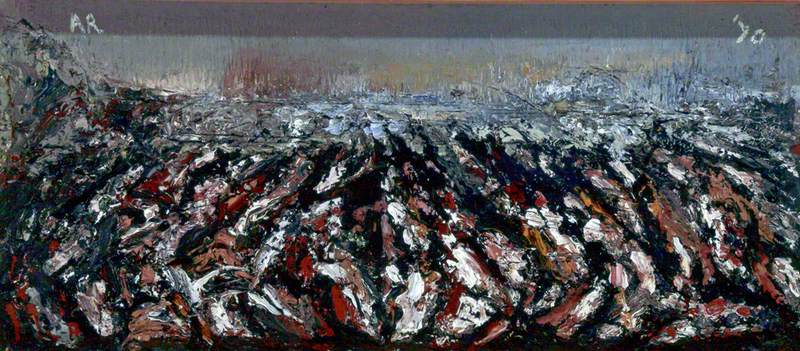 © the artist's estate. Photo credit: Williamson Art Gallery & Museum
Artist, writer and teacher obsessed by mystical intimations which he found in everyday things and landscape. He was born, with his elder twin Geoffrey, in London into comfortable circumstances. At Eton College he developed as an artist and was an outstanding field and track sportsman. Rossiter was commissioned in the Welsh Guards and while inspecting a cookhouse in Greece "sensed a transcendental state of glory". He felt "as if the secrets of the world had been unfolded before me, and I was walking with God in the Garden of Eden." Rossiter was put in a straitjacket, suffered a nervous breakdown and a femoral thrombosis which temporarily deprived him the use of his legs and was invalided out of the Army in 1947. He studied at Chelsea Polytechnic under Henry Moore and Robert Medley, 1947–51; taught at St Andrew's School, Pangbourne, and became absorbed by landscape painting; in 1955 joined the staff of Millfield School, but was still in and out of hospital; then in 1957 married Anneka Oving, a Dutch nurse, who provided stability for Rossiter to flourish as a painter in the Mendip Hills and to teach at the Royal West of England Academy (later the Bristol Polytechnic), 1960–83.
Read more
In the latter year he formed Dalesford Studio for personal tuition in art, an extension of his own studio. From the mid-1950s he showed in London and the provinces. His autobiography The Pendulum was published in 1966, linked to a retrospective at Reading Museum and Art Gallery. A show of his work organised by The Lincolnshire Association in 1969 toured the county. Influenced by Dom Aelred Watkin, headmaster of Downside School, he was received into the Roman Catholic church. In 1984, he was elected RWA. Rossiter explained the sources of his art in The Golden Chain, 1970, reviewed appreciatively by the poet W H Auden, who became his friend and the subject of several portraits. In 1980, he illustrated Elizabeth Jennings' poems A Dream of Spring. The Victoria & Albert Museum, Ashmolean Museum in Oxford and Smithsonian Institution, Washington, America, hold examples. Lived at Litton, Somerset.
Text source: 'Artists in Britain Since 1945' by David Buckman (Art Dictionaries Ltd, part of Sansom & Company)