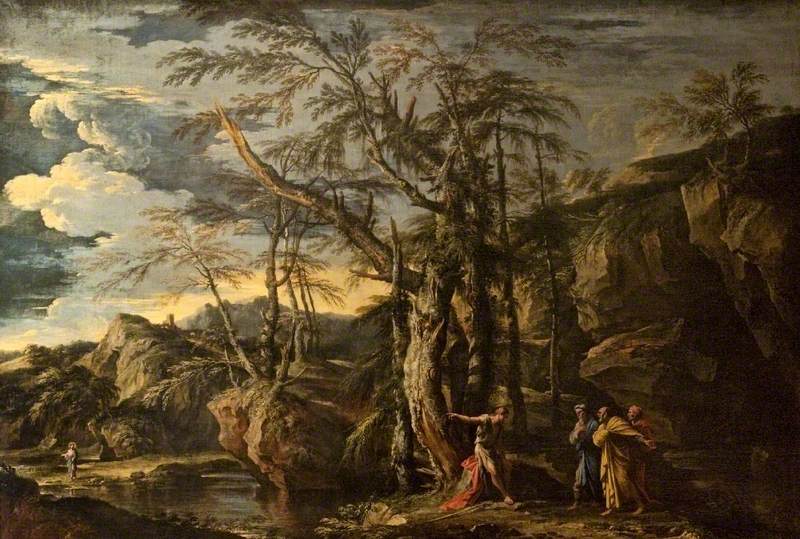 Photo credit: Glasgow Life Museums
(b Arenella, nr. Naples, 21 July [or less likely 20 June] 1615; d Rome, 15 Mar. 1673). Italian painter and etcher, a fiery and flamboyant character who was a poet and actor as well as an artist. After training in Naples, he spent most of his career in Rome, except for the 1640s, when he lived mainly in Florence; his decision to move there was probably connected with the scandal he caused by publicly satirizing the great Bernini. Rosa was a prolific artist and painted various subjects (including spirited battle pieces in which he surpassed his teacher Falcone), but he is best known for the creation of a new type of wild and savage landscape (River Landscape with Apollo and the Cumaean Sibyl, c.1650–60, Wallace Coll., London). His craggy cliffs, jagged, moss-laden trees, and rough bravura handling create a dank and desolate air that contrasts sharply with the serenity of Claude or the classical grandeur of Poussin (a situation summed up in the famous lines from James Thomson's The Castle of Indolence (1748): 'Whate'er Lorraine light-touched with softening hue, ǀ Or savage Rosa dashed, or learned Poussin drew').
Read more
He is also well known for his macabre subjects (notably witches), but he himself set most store by his large historical and religious compositions, which are now considered his least attractive works. His most ambitious etchings, dating mainly from the 1660s, were done to publicize these paintings. Rosa's colourful life (which ended with a deathbed marriage to his longstanding mistress) and his unswerving belief in his own genius made him a prototype of the Romantic artist and his fame was greatest in the 18th and 19th centuries (the story that he was a bandit seems to be a 19th-century invention). He was highly influential on the development of the Picturesque and the Sublime, and he had a great vogue in England, where Mortimer was particularly taken with his pictures of bandits. However, it was an English critic, John Ruskin, who was largely responsible for the fall of his reputation, condemning his landscapes as artificial.
Text source: The Oxford Dictionary of Art and Artists (Oxford University Press)