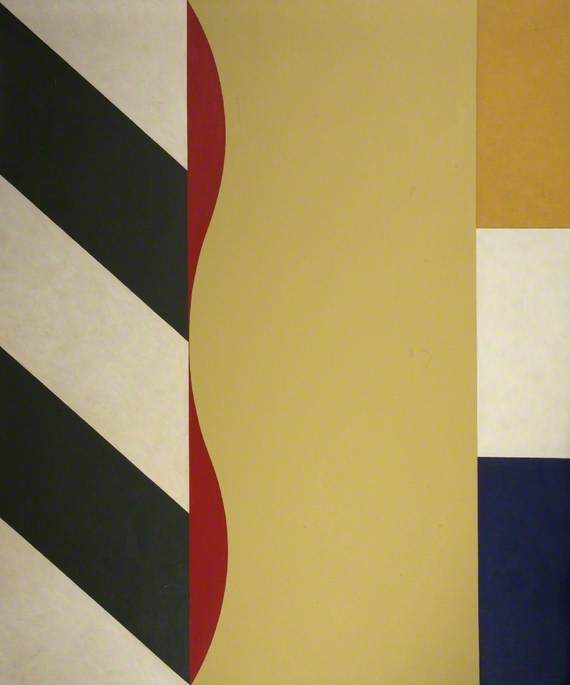 © the artist/courtesy Flowers Gallery, London and New York. Photo credit: Dillington House
Painter of abstract pictures, printmaker and teacher, born in Berkshire, who obtained a degree in fine art from Cardiff College of Art, 1974–8, then her master's in the same subject from Chelsea School of Art, 1980–1. In 1981–2 Robertson gained a Boise Scholarship to Italy, in 1993 an Edwin Austin Abbey Memorial Award, British School at Rome. In 1996, she won a London Arts Board Award; in 2001 was fellow, Ballinglen Arts Foundation, County Mayo, Ireland; and in 2003 research fellow in painting at University of Wales Institute, Cardiff, having been a visiting lecturer in the painting department for many years. Took part in many group and mixed shows, including Sherman Theatre in Cardiff and Stowells Trophy at RA, both 1978; Three Artists, New Art Centre, 1982; Acme Artists, Bethnal Green Library and tour, 1987; Art on Paper, Weatherspoon Art Gallery, Greensboro, North Carolina, 1990; and Contemporary Art Society Market, Royal Festival Hall, 1995.
Read more
Had a solo show at Howard Gardens Gallery, Cardiff, in 1983, later ones including Galeri Weinberger, Copenhagen, and The Blue Gallery, both 1996, Flowers East, 2002 and 2003, and Abstract Realities at Howard Gardens Gallery, 2004. She won first prize in the Singer & Friedlander/Sunday Times Watercolour Competition in 2005. Arts Council, Contemporary Art Society and London College of Furniture hold examples. Her husband was the painter Trevor Sutton.
Text source: 'Artists in Britain Since 1945' by David Buckman (Art Dictionaries Ltd, part of Sansom & Company)