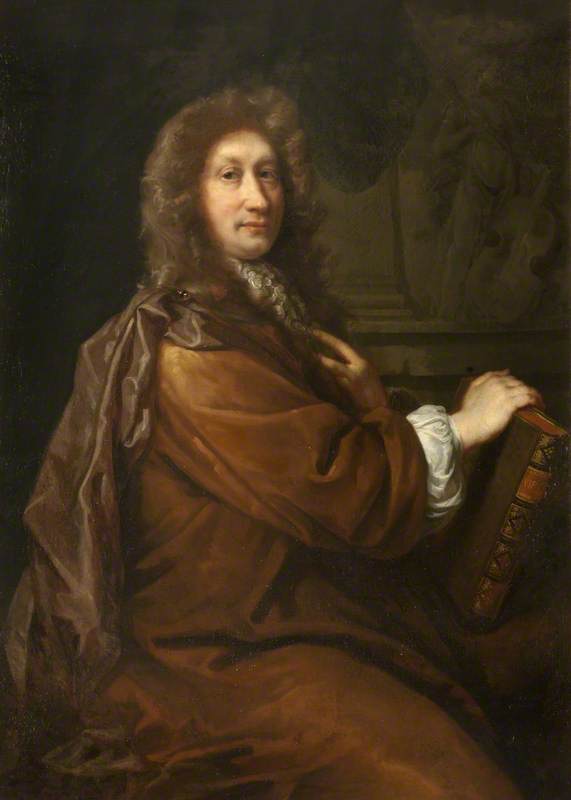 Photo credit: Traquair Charitable Trust
(b London, 1646; d London, 27 Mar. 1691). English portrait painter. His early career is obscure, but following the death of Lely in 1680 he was for a decade (until his own death) one of the leading portraitists in the country, rivalled only by Kneller. In 1681 Charles II appointed him 'painter and picture drawer in ordinary' and he is said to have produced a portrait of Charles (now lost) that prompted the response: 'Is this like me? Then, odd's fish, I'm an ugly fellow.' After the accession of William III and Mary II in 1689, he was appointed their principal painter jointly with Kneller. However, the finest works associated with him are not court portraits but depictions of sitters from humble callings: the two best known are The Scullion (Christ Church, Oxford) and Bridget Holmes (1686, Royal Coll.
Read more
), a full-length portrayal of a 96-year-old royal housemaid who brandishes her broom at a mischievous pageboy. (It has been suggested that Bridget Holmes is too impressive a composition to be by Riley, who was acknowledged to be much better with faces than with figures, and that it should be attributed to the German-born John Closterman (1660–1711), who worked in partnership with him for a while.) Most of Riley's more conventional portraits are of male sitters (he was no rival to Lely in depicting fine dresses and soft complexions) and their unassuming sincerity of presentation exemplifies a typically English approach to portraiture that he passed on to his pupil Jonathan Richardson the Elder.
Text source: The Oxford Dictionary of Art and Artists (Oxford University Press)