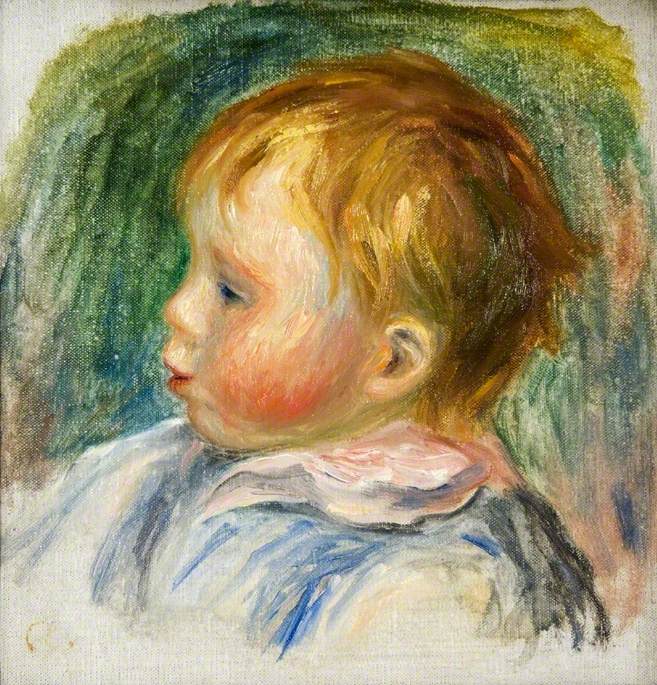 Photo credit: Glasgow Life Museums
(Born Limoges, 25 February 1841; died Cagnes-sur-Mer, 3 December 1919). French Impressionist painter. He was born into a poor family and in 1854, aged 13, he began employment as a painter in a porcelain factory in Paris, gaining experience with the light, fresh colours that were to distinguish his Impressionist work and also learning the importance of good craftsmanship. His predilection for light-hearted themes was also influenced by the great Rococo masters, whose work he studied in the Louvre.
Read more
In 1862, having saved enough to pay for professional tuition, he became a pupil in Gleyre's studio; there he formed lasting friendships with Monet, Sisley, and Bazille, and with them created the early nucleus of the Impressionist group. His relationship with Monet was particularly close at this time, and their paintings of the beauty spot called La Grenouillère done in 1869 (an example by Renoir is in the Nationalmuseum, Stockholm) are regarded as the classic early statements of the Impressionist style. Like Monet, Renoir endured much hardship early in his career, but in the late 1870s he began to achieve success as a portraitist (he was well suited to this work temperamentally, as his shy but friendly personality put sitters at their ease).

In 1881 the dealer Paul Durand-Ruel began buying his work regularly and henceforth he was free of major financial worries. By this time Renoir had 'travelled as far as Impressionism could take me', and a visit to Italy in 1881–2 inspired him to seek a greater sense of solidity in his work. The change in attitude is clearly seen in The Umbrellas (c.1881–6, NG, London), which was begun before the visit to Italy and finished afterwards: the two little girls on the right are painted with the feathery brushstrokes characteristic of his Impressionist manner, but the figures on the left are done in a crisper and drier style, with duller colouring. In the mid-1880s Renoir experimented for a while with this manière aigre (harsh or sour manner) as he called it, but he then developed a softer and more supple kind of handling combined with warmer colour.

At the same time he began to turn from contemporary themes to more timeless subjects, particularly nudes, but also pictures of young girls in unspecific settings. As his style became grander and simpler he also took up mythological subjects (The Judgement of Paris, c.1913–14, Hiroshima Mus. of Art), and the female type he preferred became more mature and ample. In the 1890s he began to suffer from rheumatism, and from 1903 (by which time he was world-famous) he lived in the warmth of the south of France. The rheumatism eventually crippled him (by 1912 he was confined to a wheelchair), but he continued to paint until the end of his life, and in his last years he also took up sculpture, directing assistants (usually Richard Guino, a pupil of Maillol) to act as his hands (Venus Victorious, 1914, Tate, London). The house at Cagnes-sur-Mer in which he spent his final years is now a museum devoted to him.

Renoir is one of the best-loved artists of the 19th century, for his subjects—pretty children, flowers, beautiful scenes, above all lovely women—have instant appeal, and he conveyed the joy he took in them with great directness. 'Why shouldn't art be pretty?', he said; 'There are enough unpleasant things in the world.' He was one of the great worshippers of the female form, and he said, 'I never think I have finished a nude until I think I could pinch it.' His output was enormous (about 6,000 paintings) and examples are in collections all over the world. One of his sons was the celebrated film director Jean Renoir (1894–1979), who wrote a lively and touching biography published in both French and English (Renoir, My Father) in 1962.
Text source: The Oxford Dictionary of Art and Artists (Oxford University Press)