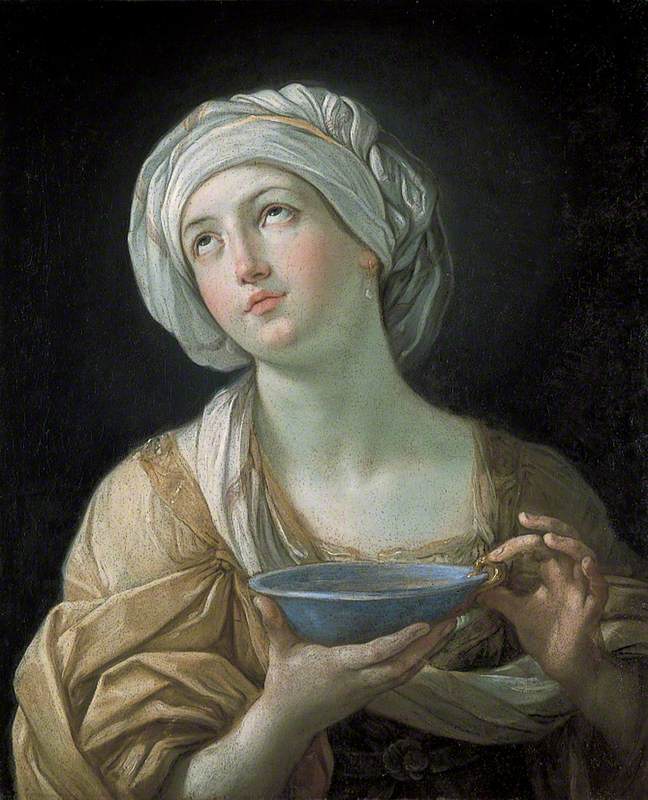 Photo credit: Birmingham Museums Trust
(b Bologna, 4 Nov. 1575; d Bologna, 18 Aug. 1642). Bolognese painter, draughtsman, and occasional etcher. From about 1584 to 1593 he was a pupil of Calvaert, then transferred to the academy run by the Carracci, where he absorbed their tradition of clear, firm draughtsmanship. By 1601 he had moved to Rome and he was based there until 1614, although he made frequent visits to Bologna. He flirted briefly with the Caravaggesque manner (Crucifixion of St Peter, 1603, Pinacoteca, Vatican), but Raphael and the antique were the main inspiration for his graceful classical style, as is seen in his most celebrated work, Aurora (1614, Casino dell' Aurora, Palazzo Rospiglioso-Pallavacini, Rome), a captivatingly beautiful ceiling fresco painted for Cardinal Scipione Borghese.
Read more
Reni was also a favourite artist of Borghese's uncle, Pope Paul V, but in spite of his success in Rome he settled in Bologna in 1614 and seldom left the city again. After Ludovico Carracci's death in 1619, he was unrivalled as Bologna's most important artist; indeed by this time he was probably the most sought-after painter in Italy. The products of his large studio (mainly religious works) were sent all over Europe and Rubens was the only contemporary painter who had a more glittering international clientele.Reni cut an impressive, aristocratic figure, always fashionably and expensively dressed and usually attended by servants. He earned a huge amount of money from his work, but he was often in debt because of his addiction to gambling. This was one aspect of his complex and decidedly odd character, which is described in detail by his friend and biographer Malvasia. Because of this remarkable account, more is known about Reni's inner life than that of any previous artist. In spite of his love of gambling, he was deeply religious and also rather prim, hating to hear anyone swearing or even making double entendres. He was devoted to his mother, but otherwise was fearful and suspicious of women: 'It was generally thought that he was a virgin…When observing the many lovely young girls who served as his models, he was like marble' (it has been suggested that he was a repressed homosexual). He was renowned for his generosity to friends, colleagues, pupils, and good causes (to which he often gave money anonymously), but he was notoriously touchy, falling out with several of his fellow artists, including Albani, Domenichino, and two of his teachers—Calvaert and Ludovico Carracci. Other quirks were a fear of witchcraft and a dread of being poisoned.The great reputation Reni enjoyed in his lifetime was maintained in the 18th and early 19th centuries, many critics ranking him second only to Raphael. He was known as 'the Divine Guido' and was lauded for the celestial grace of his work. However, he fell from favour under the scornful attacks of Ruskin (who detested the Bolognese painters in general), and was long dismissed as vulgar and sentimental. Until well into the 20th century a just appreciation of his stature was impeded by the failure to distinguish between his own works and those by his countless (often extremely insipid) imitators. The great exhibition devoted to him in Bologna in 1954 was a turning point in his critical fortunes, and his status as one of the greatest Italian painters of the 17th century is now firmly re-established. His late works in particular show a beauty of colouring that sets him apart from any of his contemporaries. In his early career he had typically used strong, rich colours, but he came to favour cooler harmonies, with prominent use of ice blue, apple green, pink, and pearly grey, and in the 1630s his tonality lightened even further, his pictures taking on a soft (sometimes almost ethereal), silvery glow. At the same time his brushwork became looser and the mood of his pictures more languid. These changes, particularly the less detailed handling, may have been partly a consequence of the speed at which he worked to pay off his gambling debts (he was once so desperate for money that he hired himself out by the hour), but the best of his late works have an exquisite delicacy and refinement. The largest and finest collection of his paintings is in the Pinacoteca Nazionale in Bologna.
Text source: The Oxford Dictionary of Art and Artists (Oxford University Press)