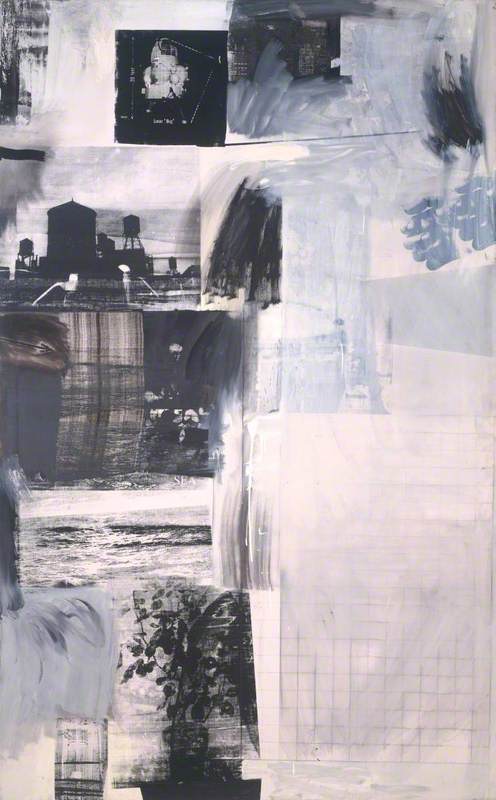 © the estate of Robert Rauschenberg/VAGA, New York and DACS, London 2021. Photo credit: Tate
(b Port Arthur, Tex., 22 Oct. 1925; d Captiva Island, Fla., 12 May 2008). American painter, printmaker, designer, and experimental artist. With his friend Jasper Johns, whom he met in 1954, he is regarded as one of the most influential figures in the move away from the Abstract Expressionism that had dominated American art in the late 1940s and early 1950s. He studied at various art schools, most notably Black Mountain College. At the time of his first one-man show (coolly received), at the Betty Parsons gallery, New York, in 1951, his work included minimalist monochromatic paintings. In the mid-1950s he began to incorporate three-dimensional objects into what he called 'combine paintings'. The objects he used included Coca-Cola bottles, fragments of clothing, electric fans, and radios, and because of his preoccupation with such consumer products he has been hailed as one of the pioneers of Pop art.
Read more
In 1958 he had a successful one-man show at Leo Castelli's gallery in New York, marking the start of a sharp rise in his fortunes. By the early 1960s he was building up an international reputation, and in 1964 he won the Grand Prize at the Venice Biennale. This caused great controversy, the Vatican newspaper L'osservatore romano describing the award as 'the total and general defeat of culture'. By this time Rauschenberg had returned to working on a flat surface and subsequently was particularly active in the medium of screenprinting. He was interested in combining art with new technological developments and in 1966 he helped to form EAT (Experiments in Art and Technology), an organization to help artists and engineers work together. In 1985 he launched Rauschenberg Overseas Cultural Interchange (ROCI), an exhibition dedicated to world peace that toured the world and included works created specifically for each place visited.
Text source: The Oxford Dictionary of Art and Artists (Oxford University Press)