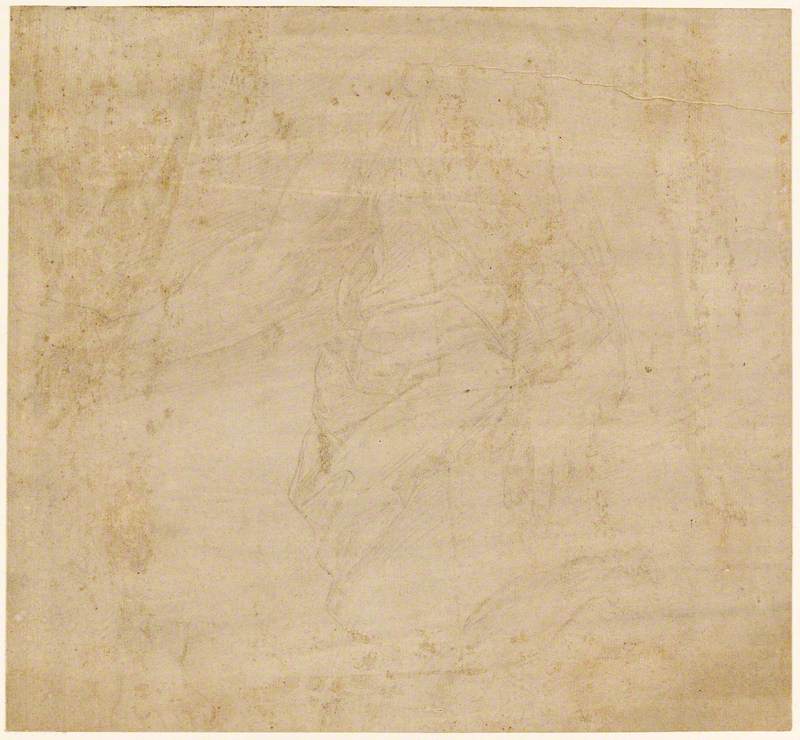 Photo credit: The Fitzwilliam Museum
(b Urbino, 28 Mar or 6 Apr. 1483; d Rome, 6 Apr. 1520). Italian painter, draughtsman, architect, and designer, the artist who most completely expresses the ideals of the High Renaissance. He was the son of the painter and writer Giovanni Santi, through whom he must have gained early familiarity with the humanist court of Federico da Montefeltro in Urbino. This cultured background stood him in good stead throughout his career, for unlike many artists he was renowned for his social poise. Vasari says that 'Raphael came to be of great help to his father in the numerous works that Giovanni executed in the state of Urbino', but Santi died in 1494, when Raphael was only 11, and nothing is documented about his training. Presumably he did receive his first lessons in art from his father, and it has been suggested that he was subsequently a pupil of Timoteo Viti (1469–1523), a local painter, but the overwhelming influence on his early work was Perugino.
Read more
He took from him not only general qualities such as sweetness of expression and elegance of drawing, but also such characteristic details as daintily crooked little fingers and wispy background trees. According to Vasari, Raphael was Perugino's pupil, but this is perhaps not strictly true. He was highly precocious and is documented as an independent artist (described as 'magister' or master) in 1500, when he was only 17; his personal contact with Perugino seems to have come a little later (c.1502–3), when he was probably his colleague rather than assistant. By the time he was 21 he had already outstripped Perugino, as is clearly seen by comparing Raphael's Marriage of the Virgin (1504, Brera, Milan) with Perugino's slightly earlier painting of the same subject (Mus. B.-A., Caen). The two compositions are closely similar in many ways, but Raphael far surpasses Perugino in lucidity and grace.In his early career Raphael had commissions from various places in Umbria. From 1504 to 1508 he spent much of his time in Florence, and these years are usually referred to as his Florentine period, although he never took up permanent residence in the city. The experience of Florence greatly affected his art: he moved away from Perugino's style and his work became grander and more sophisticated under the inspiration of Leonardo, Michelangelo, and also Fra Bartolommeo (whose 'pleasing manner of colouring' is cited by Vasari as an influence). To this period belong some of Raphael's most celebrated depictions of the Virgin and Child (Madonna of the Meadow, 1505, KH Mus., Vienna). In these and his paintings of the Holy Family he showed his developing mastery of composition and expression (from Leonardo he particularly learned how to group figures fluently and compactly). He paints the sacred figures as splendid, healthy human beings, but with a serenity, a sense of some deep inner integrity, that removes any doubt as to the holiness of the subject. This sense of well-being distinguishes Raphael's art from the more disturbingly intellectual work of Leonardo or the overwhelmingly powerful creations of Michelangelo, and evidently reflects his own balanced nature. Unlike his two great contemporaries, he was not a solitary genius but a sociable and approachable figure, whom Vasari describes as 'so gentle and so charitable that even animals loved him'. He must, however, have had considerable toughness to produce the large amount of work he did in a short lifetime.In 1508, Raphael moved to Rome, where Pope Julius II (Giuliano della Rovere) entrusted him with the fresco decoration of the Stanza della Segnatura, one of a suite of rooms he was having remodelled in the Vatican. It is not known how Raphael (still only 25) came to the attention of the pope, but he was perhaps recommended by Bramante, who was a distant relative. Raphael had never before worked on a project of such size and prestige and he had little experience in fresco, but he fulfilled the commission triumphantly and he spent most of the rest of his career in the service of Julius and his successor Leo X (Giovanni de' Medici). The Stanza della Segnatura was probably used by Julius as his private library and its decoration is based on a complex theological programme concerning the relationship between classical learning and Christian thought. On one main wall, in the celebrated painting known as The School of Athens, are shown the great thinkers of the ancient world, led by Plato and Aristotle, arranged in a majestic architectural setting, a masterpiece of perspective drawing. Opposite, in the painting called the Disputa (the Disputation over the Sacrament), the doctors of the church adore the Sacrament, while above them the Trinity is surrounded by the saints and martyrs. After completing the Stanza della Segnatura in 1511 or 1512 Raphael was entrusted with decorating three adjacent rooms in the Vatican, but by the time he had completed the first of these—the Stanza d'Eliodoro—in 1514, his services were so much in demand that he had to leave the execution of his work increasingly to assistants (among them Giulio Romano, Giovanni Francesco Penni, and Perino del Vaga). The cartoons for tapestries of the Acts of the Apostles for the Sistine Chapel (1515–16, Royal Coll., on loan to V&A, London), for example, rank among his noblest designs, but much of the actual brushwork is probably by his workshop. In the Stanze and the cartoons Raphael showed a prodigious ability to arrange groups of varied figures into grandly harmonious compositions and—like Michelangelo's Sistine Ceiling—these works have had a profound and enduring influence on the whole European tradition of history painting.Apart from Julius II and Leo X, Raphael's most important patron in Rome was the enormously wealthy Agostino Chigi. Raphael's work for him included fresco decoration at his villa (now known as the Villa Farnesina), just outside the city walls of Rome, and the design of his burial chapel in the church of S. Maria del Popolo. Most of the work at the Farnesina was carried out by assistants, but the celebrated Galatea (c.1512) was painted by Raphael himself. For the Chigi Chapel (begun c.1512) he designed the entire scheme, comprising architecture, sculpture, painting, mosaic, stuccowork, and marble inlay. The richness of effect was an important source for similar works in the Baroque era, and it is fitting that the chapel (left unfinished when Chigi and Raphael died within a week of each other in 1520) was completed by Bernini. In addition to his great decorative schemes, Raphael painted many portraits and it is in these that the quality of his own workmanship in his later years is best seen. They rival Leonardo in subtlety of characterization and Titian in richness of colouring, show great inventiveness in creating psychological situations, and provide a remarkable record of the intellectual circles in which he moved (Baldassare Castiglione, c.1515, Louvre, Paris). His portrait of Julius II (1511, NG, London) established a type for papal portraits that endured for about two centuries. Other important works from his Roman period that are largely from his own hand are the Sistine Madonna (c.1512–14, Gemäldegalerie, Dresden), his most famous painting of the Virgin and Child, and the great altarpiece of the Transfiguration (Pinacoteca, Vatican), on which he was working at his death, and which—in its agitated movement and emotion—is regarded as one of the wellsprings of the Mannerist style. From about 1512 he began to work as an architect, and after the death of Bramante in 1514 he was given charge of the rebuilding of St Peter's. Raphael ranks second only to Bramante among High Renaissance architects, but it is difficult to appreciate his status, as little of his work survives as he designed it. His huge workload increased further in 1517 when Leo X appointed him Rome's superintendent of antiquities, in which capacity he planned a detailed survey of the city's ancient monuments.Vasari says that Raphael's early death from fever (perhaps on his thirty-seventh birthday) 'plunged the entire papal court into grief'. He was rich, famous, and honoured, and his influence was widely spread even during his own lifetime through the engravings of Marcantonio Raimondi. His posthumous reputation was even greater, for until well into the 19th century he was regarded by almost all critics as the greatest painter who had ever lived—the artist who expressed the basic doctrines of the Christian Church through figures that have a physical beauty worthy of the antique. He became the ideal of all academies and Reynolds said of him: 'It is from his having taken so many models that he became himself a model for all succeeding painters: always imitating and always original.' In the later 19th century and particularly the 20th century there was a reaction against such adulation. The modern world likes its artistic heroes to show human frailties and preferably to be eccentrics or rebels, and Raphael—with his obliging personality, efficient management skills, and career of unbroken success—is completely lacking in this kind of appeal. Nevertheless, although his reputation is slightly less exalted than it once was, he remains one of the brightest beacons of European art.
Text source: The Oxford Dictionary of Art and Artists (Oxford University Press)