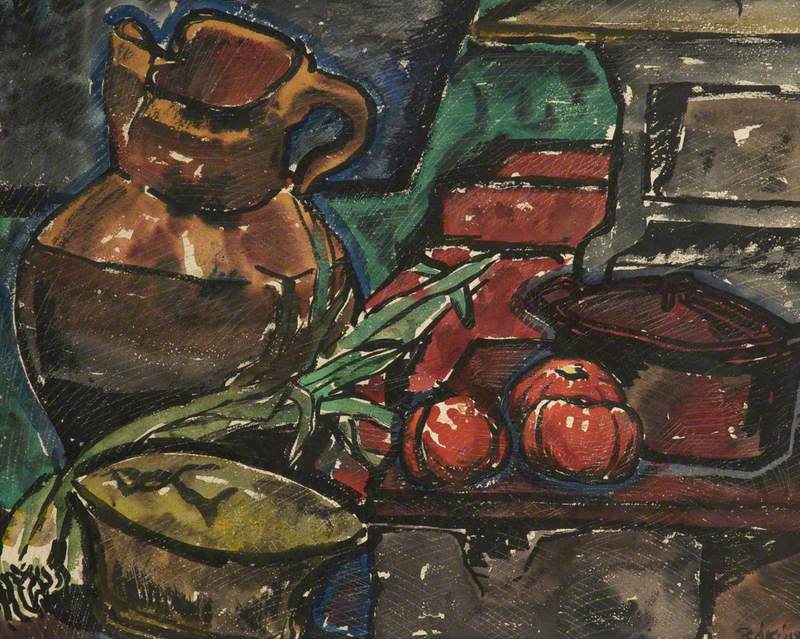 © the artist's estate. Photo credit: Salford Museum & Art Gallery
Painter, stage designer, illustrator and writer, born in London, father of the artist Anthony Rákóczí (pronounced Rakotsi). He sometimes worked as Basil Beaumont. He studied at Worthing, Brighton School of Art, the Académie de la Grande Chaumière in Paris and privately with the sculptor Ossip Zadkine. His father was Hungarian, a musician and artist, his mother from County Cork. Rákóczí lived and worked in southern Ireland from 1939–46, where he was leader of the White Stag Group along with artists such as Mainie Jellett, Kenneth Hall and Stephen Gilbert. Later lived in London, then Paris. He was an eclectic, subjective artist, interested in such subjects as myths, magic and folklore and contributed to publications on these topics. Founded the Society for Creative Psychology and was a member of the Gypsy Lore Society and Folk Lore Society.
Read more
He was associated with Lucy Wertheim's Gallery and his work appears in her autobiographical book Adventure in Art. Exhibited widely in England, Ireland and on the continent. Retrospective at European Modern Art Gallery, Dublin, 1991, another show at the Gorry Gallery, Dublin, 1996. S B Kennedy's catalogue for The White Stag Group exhibition at the Irish Museum of Modern Art, Kilmainham, in 2005, surveyed the artist's life and work. Died in London.
Text source: 'Artists in Britain Since 1945' by David Buckman (Art Dictionaries Ltd, part of Sansom & Company)