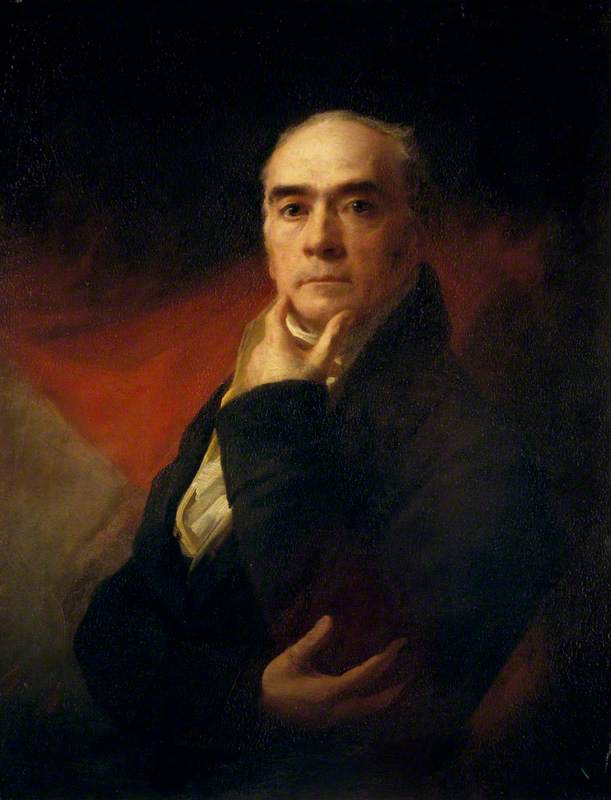 Photo credit: National Galleries of Scotland
(Born Stockbridge [now a district of Edinburgh], 4 March 1756; died Edinburgh, 8 July 1823). The leading Scottish portrait painter of his period. He was the first major Scottish painter to work largely in his own country, and his portraits create a superb visual record of a golden age of culture and society in Scotland in general and Edinburgh in particular. On leaving school he was apprenticed to a goldsmith and he appears to have been largely self-taught as a painter. In 1784–6 he visited Italy (going via London, where he is said to have met Reynolds), but his distinctive style was already largely formed by this time. He painted directly on to the canvas without preliminary drawings, and his bold, vigorous handling—sometimes called his 'square touch'—could be extraordinarily effective in conveying the character of bluff legal worthies or rugged Highland chiefs (The MacNab, c.1810, Diageo plc, on loan to Kelvingrove AG, Glasgow). He could also be remarkably sensitive when painting women (Isabella McLeod, Mrs James Gregory, c.1798, Fyvie Castle, Aberdeenshire, NT), and he had a penchant for vivid and original lighting effects (William Glendonwyn, c.1795, Fitzwilliam Mus., Cambridge).
Read more
At times, however, his technical facility degenerated into empty virtuosity. Since he had all the sitters he needed in Scotland, there was no need for him to compete with Lawrence and Hoppner in London, although he did consider moving there after Hoppner's death in 1810. At this time he was in financial trouble, having gone bankrupt in 1808 after the collapse of business interests, but by sheer hard work (resulting in overproduction in his later years) he restored his fortunes and by the end of his life was an honoured figure: in 1822, on the occasion of George IV's visit to Edinburgh, he was knighted, and the following year he was appointed royal painter for Scotland.
Text source: The Oxford Dictionary of Art and Artists (Oxford University Press)