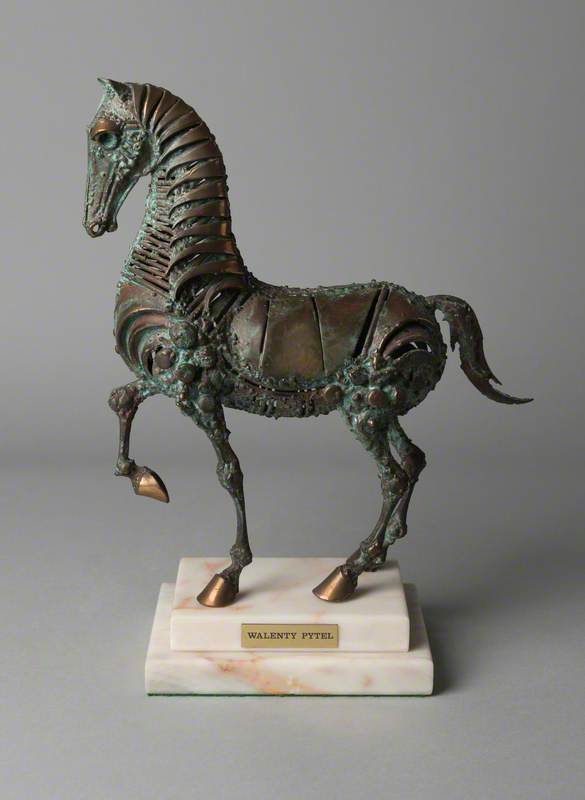 © Walenty Pytel. All Rights Reserved, DACS 2023. Photo credit: West Northamptonshire Council
Versatile artist producing two- and three-dimensional work, born in Sarny, Poland, who moved to England as a child. He studied graphic design at Hereford College of Art, 1956–61. After illustrating for a London publisher and modelling for shop window displays, he set up in Hereford in the early 1960s. By 1965, he was concentrating on sculpture, becoming known for his welded constructions, notably of wildlife. From the late 1970s he operated at Letton, Herefordshire. He exhibited in Britain and abroad, including Royal Society for the Protection of Birds Centenary Exhibition, Walsall Museum and Art Gallery, 1989, and frequently with SWLA at Mall Galleries, in 1988 winning an award. Among Pytel's many commissions were the Silver Jubilee Monument, Parliament Square, London, 1977, and the bird sculpture Take Off, at Birmingham International Airport, 1985.
Read more
Pytel was an associate of the RBS.
Text source: 'Artists in Britain Since 1945' by David Buckman (Art Dictionaries Ltd, part of Sansom & Company)