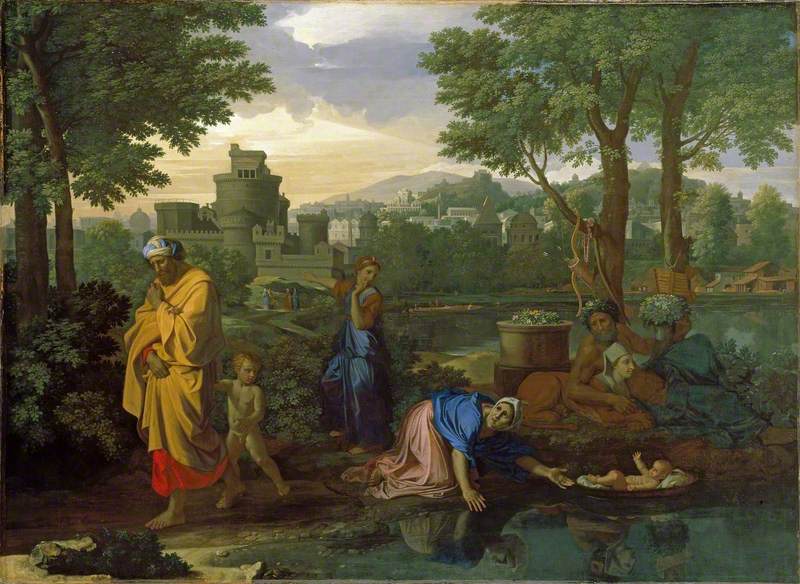 Photo credit: Ashmolean Museum, University of Oxford
(b Les Andelys, Normandy, June 1594; d Rome, 19 Nov. 1665). French painter and draughtsman, active mainly in Rome. Although he spent almost all his career in Italy, he is regarded not only as the greatest French painter of the 17th century, but also as the mainspring of the classical tradition in French painting. His early interest in art was given direction when Quentin Varin (c.1570–1634), a mediocre late Mannerist painter, visited his home town, Les Andelys, in 1611–12 to carry out a church commission. Soon afterwards Poussin moved to Paris, where he probably spent most of his time until his departure for Rome in 1623, although these years are poorly documented and he may have travelled around France a good deal. The few surviving works from this period include a series of mythological drawings (1622–3, Royal Lib.
Read more
, Windsor Castle) commissioned by the Italian poet Giovanni Battista Marino, who at this time lived in Paris. Encouraged by Marino, Poussin set out for Rome (he had already made two unsuccessful attempts to get there) and arrived in March 1624. Apart from an interlude in Paris in 1640–2, he lived in Rome for the rest of his life and his art was largely shaped by the cultural traditions of his adopted city.Poussin initially endured hardship in Rome, but Marino's influence gained him an introduction to Cardinal Francesco Barberini, for whom he painted the Death of Germanicus (1626–8, Minneapolis Inst. of Arts), generally regarded as his first masterpiece. The cardinal's secretary, Cassiano dal Pozzo (1588–1657), became Poussin's most important patron in Rome. He was not particularly wealthy, but he had a huge collection of prints and drawings relating to his passion for antiquity, and Poussin absorbed a great deal from this 'paper museum', as Pozzo called it. In the ancient world he found guiding moral principles as well as stylistic models—Reynolds described him as having 'a mind thrown back two thousand years and, as it were, naturalized in antiquity'. In such an intellectual climate, his style began to shed an earlier tendency towards Mannerist elongation, becoming more classical, but for a time he was also influenced by the dynamic Baroque style that was then emerging. This is seen most clearly in the only picture he painted for a public setting in Rome, the altarpiece of the Martyrdom of St Erasmus, commissioned by Cardinal Barberini for St Peter's (1628–9, Vatican Mus.). His most personal work of this period is the Inspiration of the Poet (c.1628, Louvre, Paris), classical in design but Venetian in its rich colouring.In about 1629 Poussin became seriously ill (Passeri says he was stricken by venereal disease) and was nursed back to health by the family of Jacques Dughet, a French cook working in Rome, whose daughter he married in 1630. The illness coincided with a change of direction in his work. He abandoned the competition for public commissions (his altarpiece for St Peter's had been coolly received) and henceforth concentrated on pictures of fairly modest size for private collectors whose interests were similar to his own (several of them were indeed his friends). In the early 1630s he specialized in literary subjects from Ovid and Tasso, treated with a lyrical warmth (Rinaldo and Armida, c.1630, Dulwich Picture Gal., London), and he also painted some full-blooded bacchanalian scenes. From the mid-1630s, however, he put more stress on clarity of design, and Raphael replaced Titian as his chief inspiration among Renaissance painters. In addition to his pagan subjects, he painted religious themes, and he seems to have been able to reconcile Christian beliefs with certain philosophical ideas of the ancient world, particularly the Stoical ideal that virtuous equanimity sustains a wise person in any misfortune. He lived a quiet, simple life, in spite of his growing success, and although he had been something of a hothead in his youth, he came to believe that 'peace and tranquillity of mind are possessions without equal.'By the later 1630s Poussin had a high reputation in France as well as Italy, and in 1640 he reluctantly succumbed to official pressure and returned to Paris to work for Louis XIII. He was commissioned to superintend the decoration of the Grande Galerie of the Louvre (work wholly alien to his temperament), to paint altarpieces, and to design frontispieces for the royal press. His visit was ruined by jealousy and intrigue, and in September 1642 he returned to Rome—ostensibly to collect his wife, but in reality with no intention of ever going back to Paris. Fortunately for Poussin, both the king and his chief minister, Cardinal Richelieu, died within months of his departure and no attempt was made to coerce him back to France to complete the projects he had left unfinished. Although the visit was such an unhappy one, it had the positive effect of introducing him to cultivated admirers of his work in Paris, and from this point he worked more for French than Italian patrons. The most important among them was Paul Fréart de Chantelou, a civil servant. Poussin not only painted some of his finest works for Chantelou, but also corresponded with him at length, revealing much about his deeply thoughtful approach to art. Clarity and rationality were the qualities he sought above all: in 1642 he told Chantelou that 'My nature constrains me to seek and to love well-ordered things, and to flee confusion, which is as much my antithesis and my enemy as light is to dark.' His working procedure was appropriately methodical, for he not only made numerous preparatory drawings, but also employed wax models on a kind of miniature stage-set (like Tintoretto before him) so he could study the composition and lighting with great deliberateness. He preferred to work in solitude and—unlike most artists of the time—never employed assistants.During the 1640s Poussin's work reached a peak of classical grandeur, lucidity, and harmony. At this time his interest in landscape increased, and many of his finest late paintings have magnificent open-air settings in which the natural elements are treated with the same sense of order that he brought to his figures—trees and mountains being turned into forms of almost geometrical clarity. These characteristics are wonderfully exemplified in two great works of 1648 illustrating the death of Phocion, a Stoical story from Greek history (Earl of Plymouth Coll., on loan to Nat. Mus., Cardiff; and Walker AG, Liverpool). Together with the work of his friend Claude and his brother-in-law Dughet, Poussin's paintings in this vein were the basis for ideal landscape for the next two centuries. In the 1650s Poussin's style changed again, becoming imbued with an almost mystical feeling. His figures sometimes attain a superhuman grandeur and marmoreal detachment (Holy Family, c.1655, Hermitage, St Petersburg), his landscapes take on a new wildness and splendour, suggesting awe at the fecundity and power of nature, and his colouring has a silvery, other-worldly quality. The last works he completed were a set of four pictures entitled The Seasons (1660–4, Louvre). By this time he had become almost a hermit, but nevertheless he was revered as one of the greatest artists of the age.After his death Poussin's high-minded and rational approach made him the perfect embodiment of the ideals of the Académie Royale (see academy), founded in 1648, but in the 1670s his authority was challenged in an ongoing debate in the Académie between those who believed in the primacy of design in painting (Poussinistes) and those who, inspired by Rubens, emphasized the importance of colour (Rubénistes). Although the Rubénistes won the day, Poussin continued to be a major inspiration to classically minded artists into the early 19th century—indeed Anthony Blunt describes him as 'the key to the whole later evolution of French art'. During the Romantic era, with its stress on self-expression, his influence declined, but his spirit was revived again by Cézanne, who declared that he wanted 'to do Poussin again, from Nature'.
Text source: The Oxford Dictionary of Art and Artists (Oxford University Press)