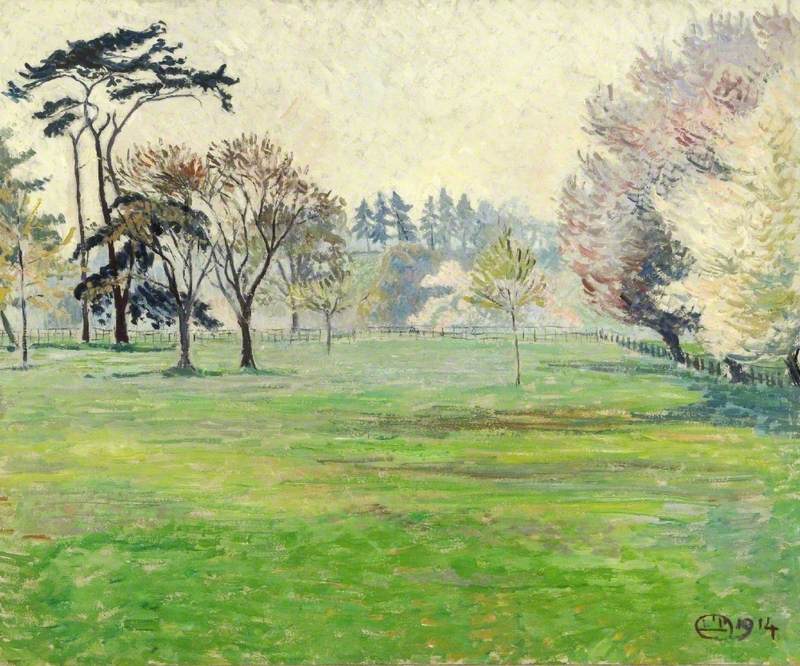 Photo credit: University of Hull Art Collection
Anglo-French painter and graphic artist, born in Paris, the eldest son of the celebrated *Impressionist painter Camille Pissarro (1830–1903). His four brothers all became painters. Lucien was taught and continuously coached by his father, and the letters they exchanged are valuable documents on late 19th-century art. Lucien visited England in 1870 as a child, worked there briefly in 1883–4, and settled permanently in the country in 1890 (although he often made trips to France), becoming a British citizen in 1916. Pissarro had a thorough knowledge of printing techniques, and in 1894 he founded the Eragny Press (named after a village in Normandy where his father lived). This was one of the most distinguished of the private presses that flourished at this time, creating books that existed primarily for the sake of their appearance—typography, illustration, binding—rather than their content.
Read more
The illustrations were mainly from Pissarro's own drawings, engraved on wood by himself and his wife, Esther, and they are remarkable for their use of colour. The heavy dependence on foreign sales led to the firm's closure in 1914. In spite of his intense involvement in printing, Pissarro always regarded painting as his primary concern. From 1905 he was a member of *Sickert's circle. His main subject was landscape. He was a modest and unassuming character and has been overshadowed by his more famous father, but he was important as a link between French Impressionism and *Neo-Impressionism and English art. Lucien's daughter, Orovida Pissarro (1893–1968), often known simply as 'Orovida', was a painter and etcher, mainly of animal subjects.
Text source: A Dictionary of Modern and Contemporary Art (Oxford University Press)