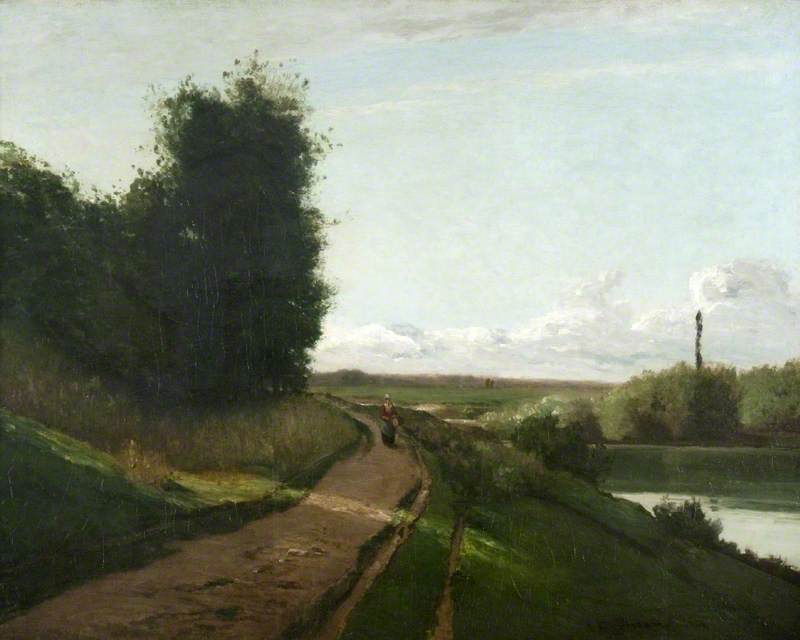 Photo credit: Glasgow Life Museums
(b Charlotte Amalie, St Thomas, Virgin Islands, 10 July 1830; d Paris, 13 Nov. 1903). French painter, printmaker, and draughtsman, born in the West Indies, where his parents (a French-Jewish father and a Creole mother) ran a prosperous general store. He was educated at boarding school in Paris, but he then returned to the Caribbean and did not settle in France until 1855. Before this he had been mainly self-taught, but he now studied at the École des Beaux-Arts and the Académie Suisse, as well as copying in the Louvre. In 1859 he met Monet, and with him became a central figure of Impressionism. Pissarro in fact was the only artist who participated in all eight Impressionist exhibitions and he was a much-respected father figure to his colleagues (he was about a decade older than most of the other members of the group).
Read more
His talents as a teacher made him influential even among artists of greater stature than himself—Cézanne and Gauguin, for example, spoke glowingly of him—and his roles as a guide and mediator have perhaps tended to obscure his own high quality as a painter. During the Franco-Prussian War of 1870–1, when his home at Louveciennes was overrun by the German invaders and many of his paintings were destroyed, Pissarro joined Monet in England. In 1872 he settled at Pontoise, where he introduced Cézanne to painting out of doors. From 1884 he lived at Eragny in Normandy, although he travelled a good deal. In 1885 he met Seurat and for several years afterwards he experimented with Neo-Impressionism; in about 1890, however, he reverted to his Impressionist style, though with freer brushwork than in his early work. By this time, following early hardships, he was beginning to prosper, and by the end of his career his work was selling well in Germany and the USA as well as France. From about 1895 deterioration of his eyesight caused him to give up painting out of doors and many of his late works are urban scenes painted from windows (usually of hotels) in Paris and elsewhere. Although he is best known for his landscapes and city views, he painted various other subjects, including portraits, still lifes, and genre scenes. In addition to a large output of paintings and drawings, he was the most prolific printmaker among the Impressionists, working in a variety of techniques and sometimes mixing them. The best representation of his paintings is in the Musée d'Orsay, Paris. There is another good collection of his work (including numerous drawings) in the Ashmolean Museum, Oxford. Pissarro had five painter sons, of whom the most important was the eldest, Lucien (1863–1944). He took part in the final Impressionist exhibition (1886) and with Seurat in the second Salon des Indépendants, adopting the pointillist technique for a time. In 1890 he settled in England, and he became a British citizen in 1916. From 1905 he was part of Sickert's circle and he was a member of the Camden Town Group and afterwards of the London Group. He was a distinguished book illustrator and from 1894 to 1914 ran the Eragny Press, one of the best of the private presses that flourished at this period. A modest and unassuming character, he has been overshadowed by his more famous father, but he was an important figure in helping to introduce Impressionism and Neo-Impressionism to England. His daughter, Orovida Pissarro (1893–1968), often known simply as 'Orovida', was a painter and etcher, mainly of animal subjects, both domestic and wild.
Text source: The Oxford Dictionary of Art and Artists (Oxford University Press)