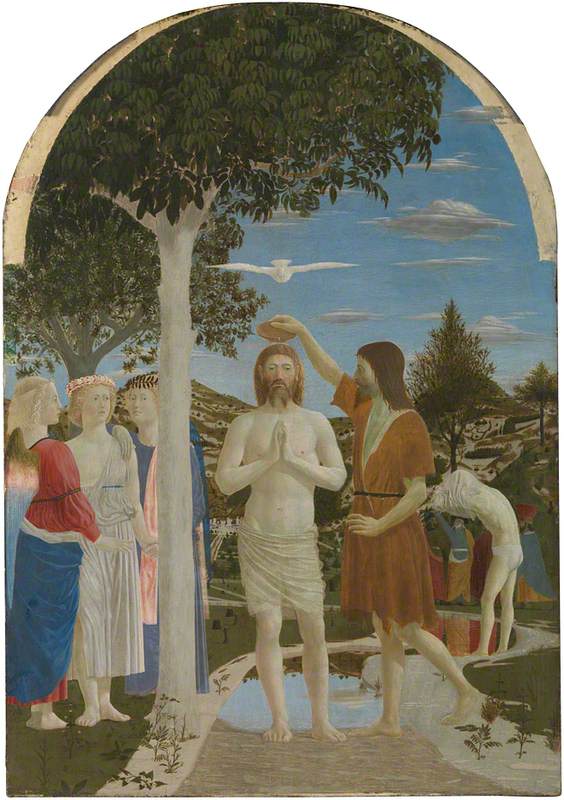 Photo credit: The National Gallery, London
Italian painter, virtually forgotten for centuries after his death, but now regarded as one of the supreme artists of the Renaissance. He spent much of his life in his native town of Borgo San Sepolcro and evidently had great affection for it, for he took an active part in its civic affairs (he twice served as a town councillor) and the surrounding countryside often features in the backgrounds of his paintings. At various times he also worked in Arezzo, Ferrara, Florence, Rimini, Rome, and Urbino, but his career is scantily documented and it is not possible to follow his movements in detail. (Arezzo and Urbino are close to Sansepolcro and Piero probably spent a good deal of time in both places, but he is only once actually documented in either, in Urbino in 1469.)
Read more
He is first heard of in 1431, when he received payment for painting some candle poles used in processions, and between 1432 and 1438 he is several times recorded working with an obscure local painter, Antonio d'Anghiari, who was perhaps his teacher. In 1439 he is documented outside Sansepolcro for the first time, assisting Domenico Veneziano on frescos (now lost) in S. Egidio, Florence. This is the only time he is recorded in Florence, but he must have been well acquainted with the city, for his paintings show that he had carefully studied the work of his great Florentine predecessors and contemporaries. He is perhaps closest in spirit to Masaccio, with whom he shared a sense of massive dignity and deep spiritual authority, but he had more interest in colour than Masaccio, and in this respect is closer to Fra Angelico and Masolino, as well as Domenico Veneziano. His fascination with perspective was something he shared with Uccello. Piero refined and unified the discoveries these artists had made in the previous twenty years and created a style in which monumental, meditative grandeur and almost mathematical lucidity are combined with limpid beauty of colour and light.

Piero's first surviving documented work is the polyptych of the Madonna della Misericordia (Pinacoteca, Sansepolcro); it was commissioned in 1445 but not finished until about 1460. Such a lengthy period of gestation was typical of Piero, who was a habitually slow worker. This meant that the traditional method of fresco painting, demanding swiftness and sureness of hand, was not ideally suited to him, and he experimented with ways of modifying the technique. He sometimes applied wet cloths to the plaster at night so that—contrary to normal fresco practice—he could work for more than one day on the same section, and he also tried using some kind of oil medium. His major work in fresco is the great series on the Legend of the True Cross in the choir of S. Francesco at Arezzo (c.1450–65). The subject was a medieval legend of great complexity, but Piero made from its fanciful details some of the most solemn and serene images in Western art—even the two battle scenes have a feeling of grim deliberation rather than violent movement.

These frescos were painted for a wealthy local family and several of Piero's other paintings were done for religious institutions in his home town. However, he also worked for illustrious patrons further afield. They included Leonello d'Este in Ferrara, Sigismondo Malatesta in Rimini, and Pope Pius II in Rome. Nothing survives of his work in Ferrara or Rome, but his fresco of Sigismondo Malatesta Venerating St Sigismund (1451, Tempio Malatestiano, Rimini) provides one of the rare firm dates in his career. The most important of his patrons was Federico da Montefeltro and Piero probably spent much of his later career working at his court in Urbino. There he painted the portraits of Federico and his wife (c.1465–75, Uffizi, Florence) and the celebrated Flagellation (still at Urbino, in the Ducal Palace). The Flagellation (c.1450–60) is his most enigmatic work, and it has called forth varied interpretations: Gombrich suggested that the subject is rather 'The Repentance of Judas' and Pope-Hennessy that it is 'The Dream of St Jerome'.

Piero is last mentioned as a painter in 1478 (in connection with a lost work) and his two final works are probably the Madonna and Child with Federico da Montefeltro (c.1475, Brera, Milan) and the unfinished Nativity (NG, London). Thereafter he seems to have devoted himself to mathematics and perspective (three treatises by him survive on these subjects). Vasari said Piero was blind when he died, and failing eyesight may have been his reason for giving up painting, but in a legal document of 1487 he writes in his own clear hand that he is 'sound in mind, in intellect and in body'. His paintings had considerable influence, notably on Signorelli (in the weighty solemnity of his figures) and Perugino (in the spatial clarity of his compositions). Both are said to have been Piero's pupils.

However, after his death, Piero was remembered mainly as a mathematician rather than as a painter, and even Vasari, who as a native of Arezzo must have known the frescos in S. Francesco well, is lukewarm in his enthusiasm for his work. Most of his major paintings were in locations that were off the beaten track and they were more or less neglected for centuries (although for an instance of his work influencing a 17th-century painter see Tournier). The process of rediscovery did not seriously begin until the later 19th century and it was not until the 20th century that he was widely acclaimed.
Text source: The Oxford Dictionary of Art and Artists (Oxford University Press)