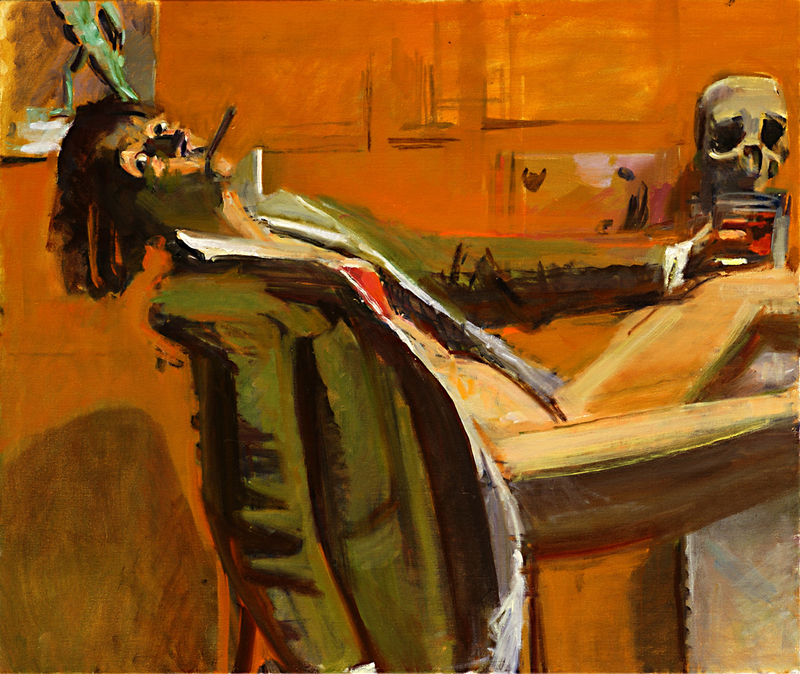 © The Ruth Borchard Collection. Photo credit: Ruth Borchard Collection
Painter in oil on canvas, and teacher, whose main works were self-portraits, views through car windscreens and landscapes, especially of Greece and Wales. Pickles was born there in Bridgend, later settling at Trefin, Haverfordwest, Dyfed. She gained a degree in mathematics from the New University of Ulster, 1973; obtained a first-class degree in painting from Chelsea School of Art, 1973–7, teachers Patrick Symons, Myles Murphy, Norman Norris and Craigie Aitchison; with a postgraduate diploma from the Slade School of Fine Art, 1977–9, taught by Lawrence Gowing, Patrick George and Euan Uglow.
Read more
Won many prizes and scholarships, including Boise Travelling Scholarship, Italy, 1980; WAC Travel Grant, Jordan, 1986; Greek Government Scholarship, 1992–4–5; and WAC Travel Grant to America, 1993. In 1994 Pickles had a Ragdale Foundation Residency, Chicago. Was a member of 56 Group and mixed show appearances included RA Summer Exhibition, 1986; John Player Award, National Portrait Gallery, 1987 and 1989; Cleveland Drawing Biennale, 1989; and Intimate Portraits, Glynn Vivian Gallery, Swansea, and tour, 1995. Later solo exhibitions included Smith Jariwala Gallery and St David's Hall, Cardiff, both 1994, and Jill Yakas Gallery, Athens, 1995. A Gathering of Difficulties: Self-Portraits was at Piano Nobile Fine Paintings in 2005. Pickles' extensive teaching experience included part-time posts at Falmouth, Bath, Chelsea, Slade, Byam Shaw and Cardiff Schools of Art. National Museum of Wales in Cardiff, Brunel and St Andrews Universities and Royal Jordanian Gallery hold examples.
Text source: 'Artists in Britain Since 1945' by David Buckman (Art Dictionaries Ltd, part of Sansom & Company)