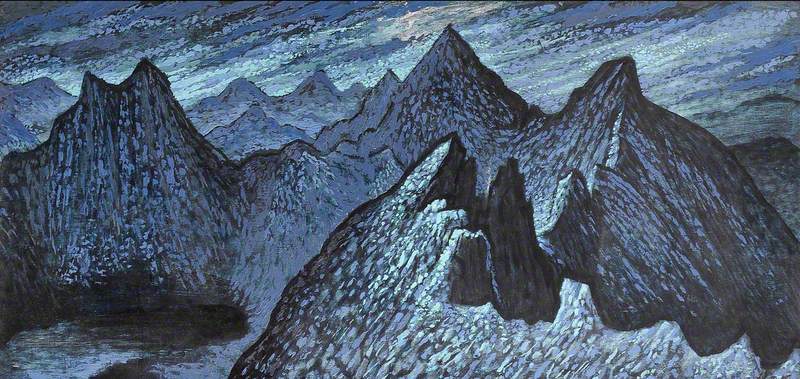 © the artist's estate. Photo credit: Gwynedd Council Collection
Multi-talented artist, sculptor, teacher and publisher, born in London. Although the glass engraver and writer Laurence Whistler ranked Petts alongside Henry Moore, Graham Sutherland and Stanley Spencer as an artist dealing with Christian themes, Petts remained an outsider, relatively unknown. Studied at Hornsey College of Art, 1930–2; then 1933–4 was at Royal Academy Schools and Central School of Arts and Crafts. In 1934 he moved to Llanllechid, in a remote part of Wales, where with his first wife, the artist and writer Brenda Chamberlain, he founded Caseg Press which published popular prints with Snowdonia themes. After World War II, during which Petts was a pacifist non-combatant, the artist resumed life in Wales with his second wife, the artist and writer Marjory (Kusha) Miller.
Read more
He was for periods associated with the Welsh Committee of the Arts Council and a teacher at Carmarthen College of Art, but from the early 1960s was mainly preoccupied with stained glass design. Among his most notable commissions were windows for the 16th Street Baptist Church, in Birmingham, Alabama; and the 40-foot windows for the Brighton and Hove Synagogue. As a painter, sculptor, designer, artist in mosaic and craftsman Petts exhibited widely. Work in many public collections, including National Library of Wales, Aberystwyth; Derby Art Gallery; and the University of Hong Kong. Died in Abergavenny, Monmouthshire.
Text source: 'Artists in Britain Since 1945' by David Buckman (Art Dictionaries Ltd, part of Sansom & Company)