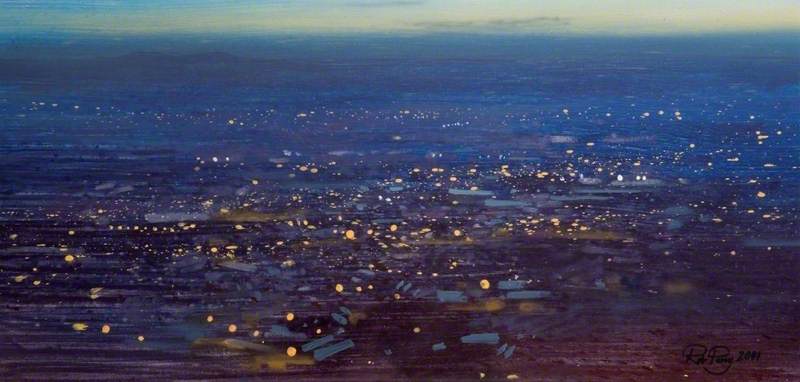 © the artist. Photo credit: Royal Birmingham Society of Artists
Artist and lecturer who was born in Brierley Hill and settled in Stourbridge in what is now the West Midlands. He studied at Stourbridge College of Art, 1960–4, notably under John Walker, gaining his art teacher's diploma at Birmingham University, 1964–5. After various teaching appointments, Rob Perry was head of department, visual communications and the arts, North East Worcestershire College, 1974–94, then a professional painter. He was elected a Citoyen d'Honneur de la Ville d'Albert, 1994, and a full member of the RBSA, 1999. His numerous group show appearances also included the RA Summer Exhibition, NEAC, RBA, PS, MAFA and Salon de Groupement Artistique Litteraire Piccardie. Perry held many solo exhibitions, later ones including York College, Astley Hall Museum and Art Gallery in Chorley, Durham Art Gallery and DLI Museum, RBSA Galleries, Der Volksbank Halle, Alzey, Rheinland-Pfalz, Germany, and Lycée Lamarck, Albert, Somme, France, all in 2001.
Read more
His work was given considerable television and press coverage. Prior to 1990, Perry concentrated on the West Midlands, but creation of a mobile studio enabled him also to travel extensively on the continent. In addition to large landscapes, Perry focused on studies of the battlefields of the Western Front, 1914–18, and Auschwitz-Birkenau and Oradour-sur-Glane, 1939–45. He offered a comprehensive exhibition and lecture service to galleries and universities, another result being his book An Artist's Diary. Robert Perry in the Somme Battlefields. Winter 2000, published in 2000.
Text source: 'Artists in Britain Since 1945' by David Buckman (Art Dictionaries Ltd, part of Sansom & Company)