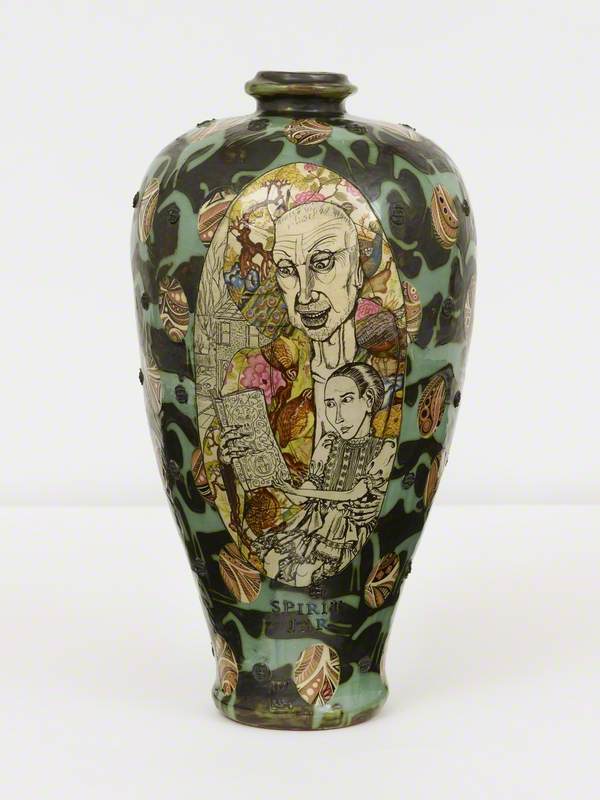 © Grayson Perry, courtesy of Victoria Miro Gallery. Photo credit: Arts Council Collection, Southbank Centre, London
Ceramist, performance artist and writer, who studied at Portsmouth College of Art, 1979–82. His many group shows included Young Contemporaries, ICA, 1982; Ian Birksted Gallery, 1983; Gallozi e La Placa, New York, America, 1985; Nishi Azabu Wall, Tokyo, Japan, Nigel Coates Commission, 1989; Fine Cannibals, Oldham Art Gallery tour, 1992; Objects of our Time, Crafts Council tour, 1997–8; and Protest & Survive, Whitechapel Art Gallery, 2000. Among Perry's solo shows were James Birch Gallery, from 1984; Birch & Conran, from 1986; Anthony d'Offay Gallery, from 1994; and Laurent Delaye Gallery and Fig-l, both 2000; and Guerilla Tactics, at Barbican Centre, 2002. The Crafts Council; Stedelijk Museum in Amsterdam, Netherlands; Shigarake Ceramic Cultural Park, Japan; Hydra Foundation, Greece; Pottery Museum, Stoke-on-Trent; Museum of Modern Art, Glasgow; and Saatchi Collection hold examples.
Read more
Perry, whose work could contain sexually explicit imagery and who made public appearances dressed as a woman, won the Turner Prize in 2003. Perry was a droll and perceptive columnist on art for The Times. Early in his career he took part in Andrew Logan's The Alternative Miss World. He was also a member of a performance group called the Neo-Naturists, appearing naked apart from body paint applied by fashion designers, staging such events as themed days. "My abiding memory of Macbeth day was how difficult it was to wash off body paint mixed with porridge oats when it had cemented itself to all your body hair." He lived in London.
Text source: 'Artists in Britain Since 1945' by David Buckman (Art Dictionaries Ltd, part of Sansom & Company)