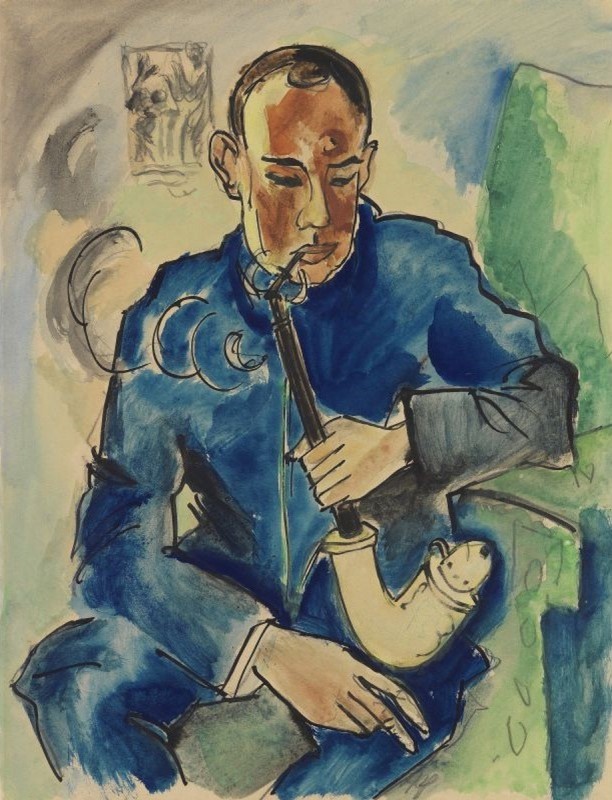 © Pechstein Hamburg/Toekendorf/DACS 2023. Photo credit: Leicester Museums and Galleries
German painter and printmaker. He was born near Zwickau and began his training as an apprentice to a decorative painter. From 1900 to 1906 he studied in Dresden, where he was a star pupil first at the School of Arts and Crafts and then at the Academy, winning several prizes. In 1906 he joined Die *Brücke, which had been founded by four other Dresden students the previous year. After visiting Italy on a scholarship in 1907, he spent a few months in Paris before settling in Berlin (which was his home for the rest of his life) in 1908. His energy and charm as well as his talent quickly made him a leading figure in Berlin's artistic life and in 1910 he was elected president of the Neue *Sezession. In the same year the other members of the Brücke moved to Berlin.
Read more
Pechstein had kept up his contact with them in the intervening years, but in 1912 *Kirchner expelled him because he had exhibited his work at the Sezession without the group's consent. In 1913–14, showing an interest in the exotic shared with other *Expressionists, Pechstein visited the Palau Islands in the Pacific, where he painted lively, almost- *Fauvist scenes depicting the paradisal life of the fishermen. His other subjects included nudes, landscapes, portraits, and opulent flower pieces. Among the German *Expressionists he was the most French in spirit (he was particularly influenced by *Matisse) and, probably because his work was essentially decorative rather than emotionally intense, he was the first member of the Brücke to achieve popular success and general recognition; the 1920s marked the height of the fashion for his work. Since then his reputation has faded whilst those of his former colleagues has grown. Pechstein was in Palau when the First World War broke out. He was taken prisoner by the Japanese but escaped and made his way back to Germany via the USA and Holland in 1915. Immediately drafted into the army, he fought on the Somme but was discharged in 1917 following a nervous collapse. At the end of the war he was one of the founders of the *Novembergruppe and in 1923 he began teaching at the Berlin Academy. He was dismissed by the Nazis in 1933 (his work was declared *degenerate) and reinstated in 1945. His later paintings became repetitive, and the high quality of his work in his pre-First World War period is sometimes forgotten. In addition to paintings, he produced a large number of prints—etchings, lithographs, and woodcuts. His posthumously published memoirs (Max Pechstein: Erinnerungen, 1960) are an important primary source for the history of the Brücke.
Text source: A Dictionary of Modern and Contemporary Art (Oxford University Press)