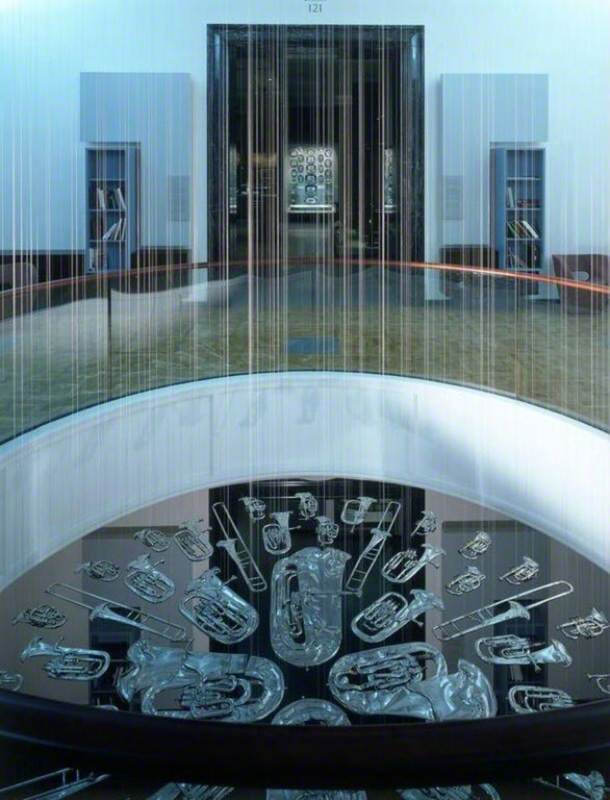 © Courtesy the artist and Frith Street Gallery, London. Photo credit: Victoria and Albert Museum, London
Creator of installations, notably of objects suspended from a ceiling, and sculptor. She was born in Cheshire and attended Gloucestershire College of Art and Design, 1974–5, Wolverhampton Polytechnic, 1975–8, and Reading University, 1980–2. Won a Wolverhampton Polytechnic Travel Scholarship, 1978, a Southern Arts Award in 1983 and a Greater London Arts Award in 1985. She was artist-in-residence at Crewe and Alsager College, 1979–80, with a Sculpture Residency and Commission, Forest of Dean, 1988. Undertook a number of commissions, including National Garden Festival, Stoke-on-Trent, 1986, and Ikon Gallery, Birmingham, commission, 1988: Thirty Pieces of Silver. This was the installation featured in the South Bank Centre's touring The British Art Show 1990, one of many group shows the artist joined.
Read more
Her solo shows began with Alsager Arts Centre Gallery, 1980; later ones included Serpentine Gallery, 1998, Frith Street Gallery, 1999, 2002 and 2003. In that year, at Tate Britain, as part of the Days Like These exhibition, Parker wrapped Rodin's sculpture The Kiss in a mile of string. Her effort, entitled The Distance (A Kiss with String Attached), provoked controversy and a visitor snipped the string in protest. Arts Council holds her work and included it in 1993–4 touring show Recent British Sculpture. Lived in London.
Text source: 'Artists in Britain Since 1945' by David Buckman (Art Dictionaries Ltd, part of Sansom & Company)