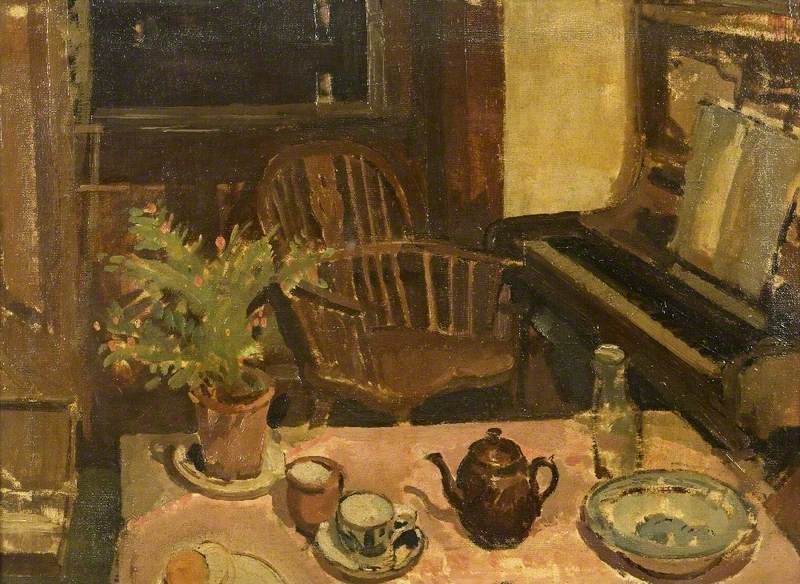 © the copyright holder. Photo credit: The Cheltenham Trust and Cheltenham Borough Council
Painter and teacher, full name Margaret Brynhild Parker, brought up in Letchworth, Hertfordshire. Her father was a craft teacher at St Christopher's School, which she attended, her mother was Swedish and her uncle was Barry Parker, architect responsible for much of the early development of the Garden City. Studied at Slade School of Fine Art, 1925–8, where she won a number of prizes, gaining her diploma. Exhibited at Goupil Gallery, NEAC, with the East London Group and had a solo exhibition at Lefevre Gallery, 1938. Parker taught art at Letchworth Grammar School for several years in early 1940s, then from 1949 lived in the Nice area of France, where she knew Picasso and and joined a group of Communist-oriented artists including Pierre Gastaud.
Read more
With him in the early 1950s she bought a house at Antibes, to which she later added property. Separated but remaining friendly with Gastaud, Parker kept open house for her many friends, continued to paint and exhibited in mixed shows. Greenhouses were one favoured theme. Manchester Art Gallery holds her striking oil on canvas The White Hat, which indicates what a fine painter she was at her best.
Text source: 'Artists in Britain Since 1945' by David Buckman (Art Dictionaries Ltd, part of Sansom & Company)