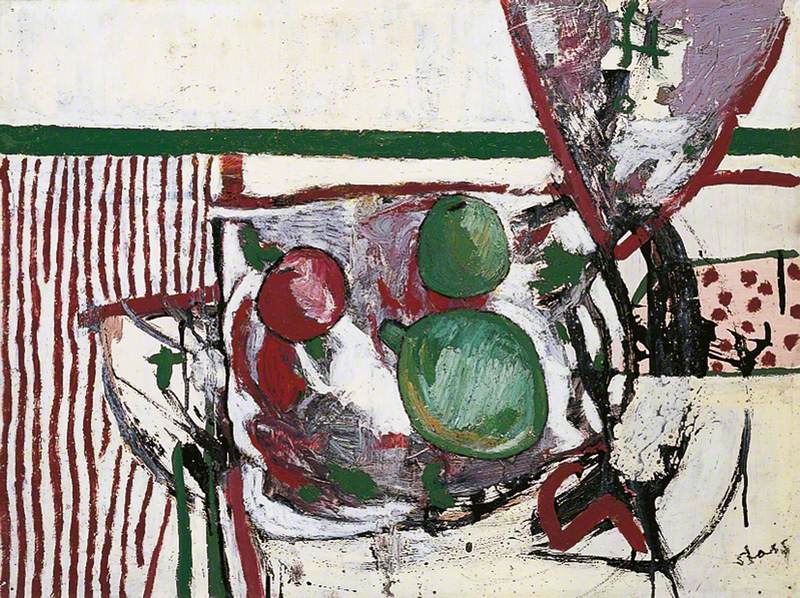 © the artist's estate. Photo credit: Bridgeman Images
Painter and teacher, born in Anafotia, Cyprus, named Stasinos after the island's epic poet. In 1953 he moved to England and, after washing up in a London Lyons' Corner House and work as a waiter in Leeds, studied fine art at Leeds College of Art, 1957–60, where the enlightened head of art Harry Thubron was an influence and where fellow-students shortened his name to Stass, with which he then signed his work. Terry Frost, teaching in Leeds, encouraged Paraskos to visit St Ives, in Cornwall, where the work of such artists as Patrick Heron, Roger Hilton, Peter Lanyon and Ben Nicholson provided new influences. From 1960–9 Stass taught at Leeds College of Art and Leicester Polytechnic, and from 1969–89 was a full-time lecturer on the degree fine art course at Canterbury College of Art (later Kent Institute of Art and Design), finally as course leader for painting and senior lecturer.
Read more
Alongside his move to Canterbury, Stass founded a summer school for artists in Cyprus. In 1978 this became the Cyprus College of Art, finally based in Lempa, of which he was principal. He was also a visiting lecturer in universities and art colleges throughout Europe and North America. Stass was a figurative painter, draughtsman and sculptor of energetic, poetic and lyrical works in a rich palette, showing Mediterranean and Post-Impressionist influences. His range was wide, from nudes, lovers and classic subjects to the political, although he was no party member. According to Norbert Lynton, author of the 2003 study Stass Paraskos, his "natural inclination was to observe the world around him and to dream about it optimistically." From 1980 he made a series of singular sculptures, including what his art historian son Michael baptised The Great Wall of Lempa, an evolving structure around the College, to which visitors' works and many odd objects contributed. Paraskos exhibited widely throughout the world, in 1998 being official artist representing Cyprus at the São Paolo Bienal, Brazil. His later solo shows included Apocalyse Gallery, Nicosia; Gallery Morfi, Limassol; and Cyprus College of Art Gallery, Paphos, all 2003. The Arts Council; Leeds City Art Galleries and Museums; Cyprus Ministry of Education; and State Collection of Contemporary Cypriot Art, Nicosia, hold examples.
Text source: 'Artists in Britain Since 1945' by David Buckman (Art Dictionaries Ltd, part of Sansom & Company)