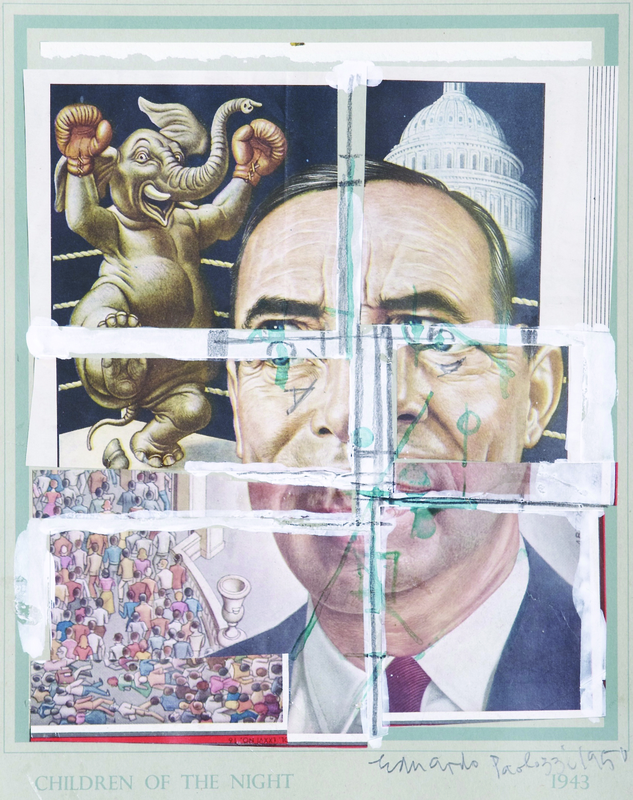 © trustees of the Paolozzi Foundation, licensed by DACS 2022. Photo credit: The Ingram Collection of Modern British and Contemporary Art
(b Leith, Edinburgh, 7 Mar. 1924; d London, 22 Apr. 2005). British sculptor, printmaker, collagist, ceramicist, film-maker, designer, and writer, the son of Italian immigrant parents. His output was large and highly varied (in terms of style as well as technique), but he is remembered mainly for his early involvement with Pop art and for the large public sculptures he produced in his later years. He had his first one-man exhibition as a sculptor in 1947 and in the same year he began making collages, using cuttings from advertisements, American magazines, etc. (I was a Rich Man's Plaything, 1947, Tate, London). Paolozzi regarded these collages as 'ready-made metaphors' representing the popular dreams of the masses, and they have been seen as forerunners of Pop art (he eventually amassed a large collection of pulp literature, art, and artefacts, which he presented to the University of St Andrews).
Read more
In 1947–50 he lived in Paris, where he was influenced by the legacy of Dada and Surrealism, and in the early 1950s he was a member of the Independent Group, the nursery of British Pop art. His sculpture moved freely between figuration and abstraction and made use of many different materials. During the 1950s it was characteristically heavy and bulky, often incorporating industrial components, showing his interest in technology as well as in popular culture. In the 1960s it became more colourful, including large totem-like figures made up from casts of pieces of machinery and often brightly painted. In the 1970s he made solemn machine-like forms and also box-like low reliefs, both small and large, in wood or bronze, sometimes made to hang on the wall, compartmented and filled with small carved items. By this time he was regarded as one of the major artists of the day and he received numerous public commissions. These included mosaic decorations for Tottenham Court Road underground station in London (installed 1983–5) and several large bronze sculptures, including Newton (1995) in the piazza in front of the British Library, London. Paolozzi was knighted in 1989 and was awarded many other honours. He taught at various art schools and universities in Britain, Europe, and the USA, but his obituary in The Times commented that 'his gruff manner and combative personality ultimately worked to the detriment of his teaching career'. In 1995 he presented a large collection of his work and other materials to the Scottish National Gallery of Modern Art; this gift is now housed in the Dean Gallery, Edinburgh. Eduardo Paolozzi: Writings and Interviews was published in 2001.
Text source: The Oxford Dictionary of Art and Artists (Oxford University Press)