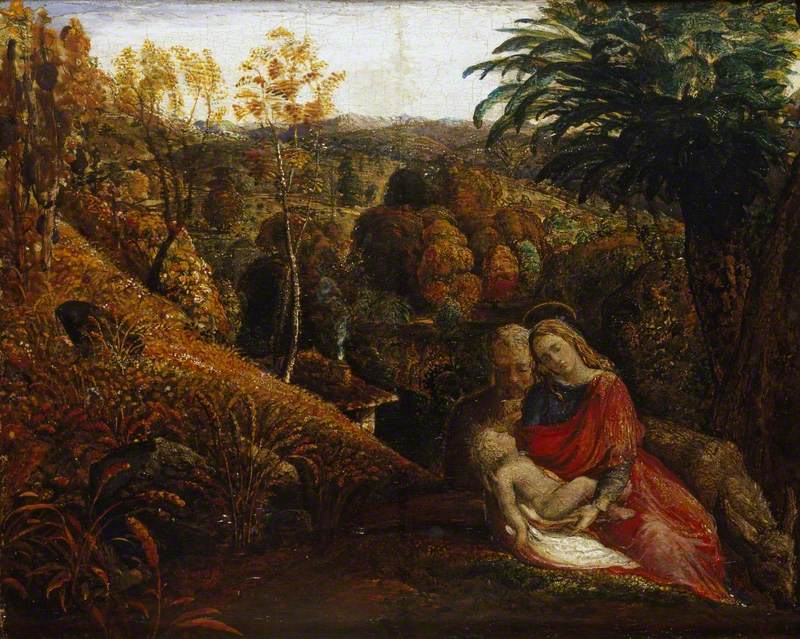 Photo credit: Ashmolean Museum, University of Oxford
(b London, 27 Jan. 1805; d Redhill, Surrey, 24 May. 1881). English landscape painter (mainly in watercolour) and etcher. He was precocious, first exhibiting at the Royal Academy when he was only 14. In 1822 he met John Linnell, who introduced him to William Blake in 1824. Palmer had had visionary experiences from childhood and the effect of Blake upon him was to intensify his inherent mystical leanings. In 1826 he moved to Shoreham, near Sevenoaks, Kent, a village he had discovered about two years earlier, when his poor health obliged him to spend time outside London. There he became the central figure of the group of Blake-inspired artists known as the Ancients and produced what are now his most famous works—small, almost monochromatic landscapes in watercolour or ink, charged with a sense of pantheistic fecundity and other-worldly beauty (The Valley Thick with Corn, 1825, Ashmolean Mus.
Read more
, Oxford). In about 1832 what he called his 'primitive and infantine feeling' for landscape began to fade, and after returning to London in 1835, marrying Linnell's daughter in 1837, and spending a two-year honeymoon in Italy, the break with his visionary manner was complete. His later paintings were in a more conventional topographical or pastoral mode, often florid in colour and highly wrought in technique. Until recently they have generally been dismissed as marking a sad decline from his early work, but they are now viewed more sympathetically: they may lack the extraordinary intensity of his youthful pictures and they can be rather sentimental, but his best works in this idiom have a richness and splendour of their own (The Prospect, 1881, Ashmolean Mus.). Palmer also did impressive late work in etching, which he took up in about 1850, showing something of the concentrated passion of his Shoreham period. At his death he was working on an edition of Virgil's Eclogues, translated and illustrated by himself; the incomplete etchings were finished by his son and biographer Alfred H. Palmer (1853–1931) and the book was published in 1883. Palmer's early work was virtually forgotten until the 1920s, but it subsequently influenced modern romantic landscape artists such as Paul Nash and Graham Sutherland (see Neo-Romanticism). Palmer was also the favourite subject for the notorious forger Tom Keating (1917–84), whose work was exposed amid great publicity in 1976.
Text source: The Oxford Dictionary of Art and Artists (Oxford University Press)