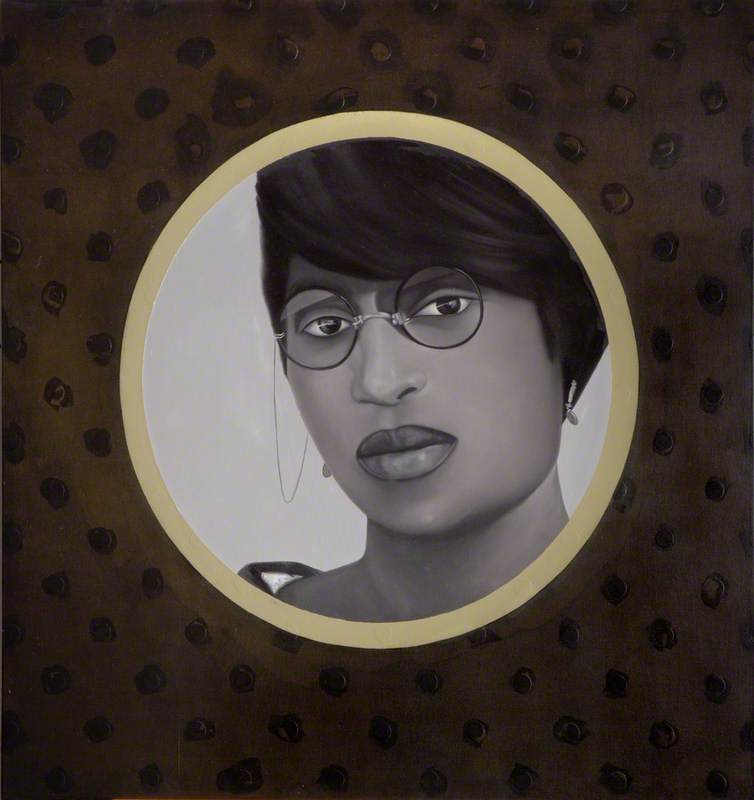 © the artist. Photo credit: The New Art Gallery Walsall
Painter and teacher, born in Kingston, Jamaica, moving to England with his parents in 1966, then being influenced by two cultures, memories of which shaped his career. He experimented with both abstract and figurative images and spoke from a black perspective. After a foundation course at Sutton Coldfield, 1974–5, Palmer obtained his bachelor's degree from Wimbledon School of Art, 1975–8; after gaining a teaching certificate from Garnett College, 1982–3, he obtained his master's degree at Goldsmiths' College School of Art, 1983–5. Palmer showed in many group exhibitions from Young Contemporaries in 1977, including the Whitechapel Open in 1988. After a solo show at Bedford Hill Gallery in 1988 he had another at 198 Gallery in 1990, and in 1997 one of a series at Duncan Campbell Contemporary Art.
Read more
An exhibition at Wolsey Art Gallery, Christchurch Mansion, Ipswich, in 2004 reviewed a decade of work. Palmer had a wide-ranging teaching career, appointments including Wolverhampton Polytechnic, Open University and Slade School of Fine Art. In 1990 he completed an Aid for Romania project in Bucharest. The Arts Council, Wolverhampton and Walsall Art Galleries hold examples.
Text source: 'Artists in Britain Since 1945' by David Buckman (Art Dictionaries Ltd, part of Sansom & Company)